Looking for employee engagement ideas?

Unengaged employees may grow bored and frustrated within a couple of years and look for a new challenge. That's why employee engagement is incredibly important to make sure your talent stays in your company.

But, how can you keep your employees engaged? How much should you spend on employee engagement anyway?
Why Should You Work on Employee Engagement?
Successful employee engagement improves morale and reduces staff turnover. Engaged employees are more efficient and productive, and are more likely to go the extra mile. This also translates into better customer retention and higher profits.

There's a lot of competition for talent. If your employees leave, at best they will be very expensive to replace. At worst, your competition will start getting your talent.

As Richard Branson said: "Clients do not come first. Employees come first. If you take care of your employees, they will take care of your clients."
25+ Best Employee Engagement Ideas to Motivate Your Team
These are over 25 ideas to start motivating your team. From expensive to completely free, you'll find ideas that can adapt to your company and your budget!
1. Praise your employees
Positive feedback is a great way of giving someone an immediate reward for a job well done. It's simple, free and it can lead to a great work environment! Recognizing someone's good work is very important to help people see that they're an important part of the team, not just another cog in the machine.

Praising shouldn't be left to managers. Everyone should feel comfortable congratulating each other when they feel like they deserve it.
How to get started:
Praising other employees can feel weird or uncomfortable, especially if you don't really know what to say or how to approach them. Luckily, you can use tools specifically designed to praise your employees the right way!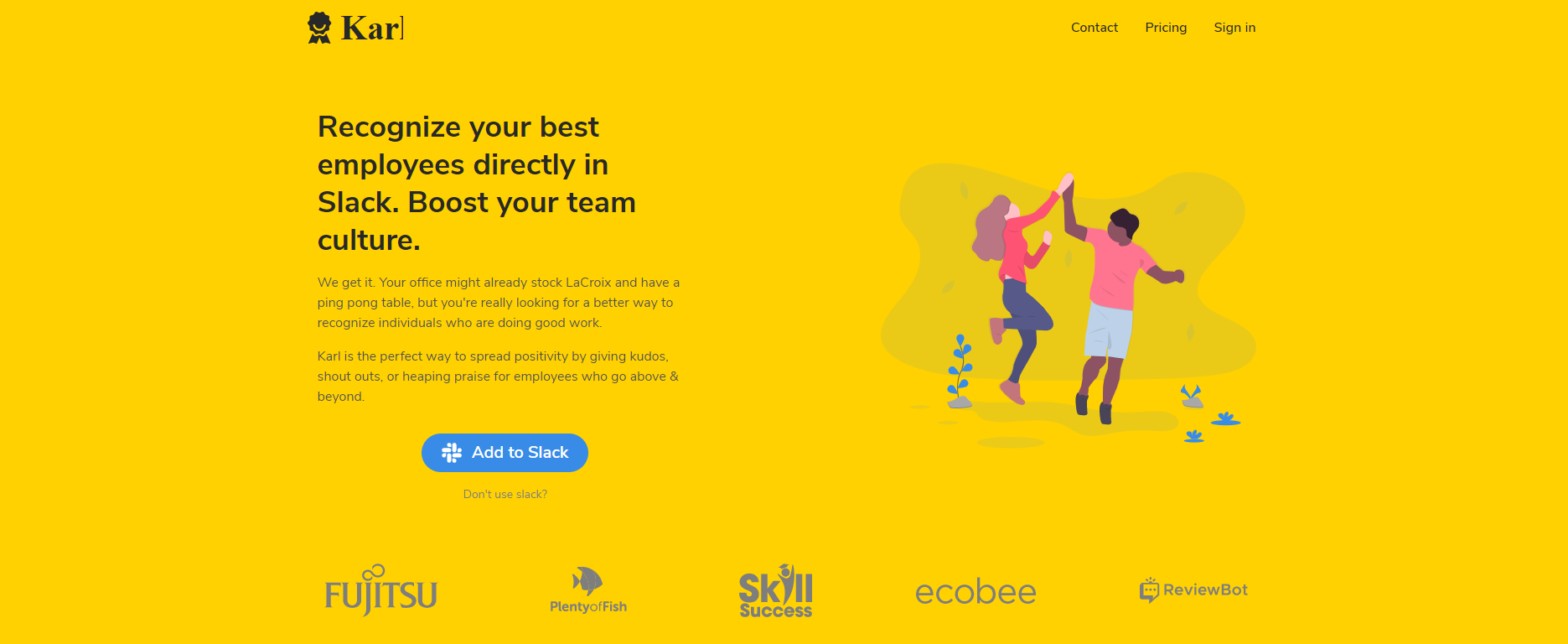 Karl is an amazing way of recognizing and giving shoutouts to employees who go above & beyond.

With Karl, it's not only extremely easy to congratulate someone, it's also easy to keep track of your best performers! You can personalize your kudos with GIFs and customize them to suit your team. You can keep them as formal or as informal as your work environment.

Karl is specifically designed to spread positivity and promote your company values, making sure every employee can give or get kudos to everyone else. With powerful analytics, you can gamify the process, reward people that get congratulated a lot and find people in need of feedback; all in just one glance!

Check out Karl now.
2. Prioritize work-life balance
Having a healthy work-life balance can seem impossible for some people. Most people spend the majority of the time they're awake at work and commuting to and from work.

However, a proper work-life balance is critical to keep employees happy, healthy and engaged.

So how can you help?
How to get started:
You can start by showing as much flexibility as your company allows. Flexible hours and home office days can be quite helpful to a lot of your employees.

You can also increase the number of sick and personal days your employees can take. Having the possibility of taking a day off can ease your employees' minds, just by knowing they have them!

The definition of a healthy balance will vary from person to person. A bachelor may be completely ok with only having their weekends to themselves, but a parent may want more time with their kids. Ask your employees what they need and help them feel your company values their life in and outside of work.
3. Show actual care
It's easy to fall into the trap of thinking you're caring by throwing around worn-out phrases. However, caring goes further than just asking "how are you?" and saying "take care".

Genuine care can indicate to your coworkers that they're a valued part of the company and not just a number.
How to get started:
Find out what your employees and coworkers need. Offer them to take a break when they need one. Listen to their goals and act on them. If someone tells you that they started going to the gym or drinking more water, a little gift like a company-labeled water bottle can do wonders for them.

Find out their wants and needs and act on them.
4. Hire by your company's culture
If you have a clear company culture and hire people according to it, you'll continue bringing people in that will integrate seamlessly with your company. That way, you can form a proper community of like-minded individuals that work with each other.
How to get started:
Make sure your company's mission, vision and values are clearly defined. Then establish those principles into the hiring process by translating them into questions to go beyond the surface and find out if the prospects fit within your company.
5. Start a newsletter
A newsletter can be a fun way of bringing people together, informing everyone of where the company is going and highlighting employees and their contributions. They can be the basis of fun activities as well as a source of information for everyone.
How to get started:
To make sure your company's newsletter isn't boring, make it your own. Have a fun title for it and make it interesting. Most people will not want to read info on a technical level. Instead, use your newsletter to announce upcoming activities where your employees can participate. Feature your employees' creation, like memes or comics about the company.

That way, everyone will be looking forward to reading the next issue!
6. Have more fun
Fun activities can be so memorable that people will continue to talk about them for years. They're great to take a break off work, establish bonds between your employees and make them feel like their company is paying them to have fun!
How to get started:
Take half a day of the month to do something fun. Have a Taco Tuesday with fun games and themes. If you're afraid that an activity may look cringey in action, take the activity outside of the company. Take your employees to paintball or an adult arcade.

Whatever you do, keep it fun and do it during company hours!
7. Have a company mascot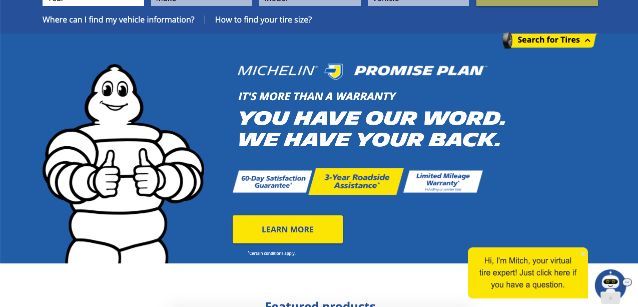 A company mascot is a cartoon spokesperson for your company. A great mascot acts as a fun embodiment of the company's values and helps your employees identify themselves with the company.
How to get started:
When creating a company mascot, find one with a unique design that represents your company's values. You can start with a design contest among your employees and have them vote for their favorite!

Keep it original and cute and, once you have one, make sure it's front and center in tees, plushies and other products that your employees can use and wear.
8. Have an anonymous way of getting honest employee feedback
Your employees can be the best sources of information to know how you can improve your culture and environment. That's why you need to make sure your employees have ways of communicating with you!
How to get started:
You can start with a simple service like Google Forms or SurveyMonkey to create an anonymous survey and gather their responses immediately.

You can ask questions like:
How satisfied are you with the work you're doing?
How satisfied are you with your salary?
How could we improve your work environment?
How would you describe the company's culture around you?

You can then add a tool for employees to ask questions and make suggestions online to keep that line of communication open.

Make sure you show your employees how you're following up on them!
9. Educate your employees with online courses
There are so many free online courses out there that your employees would love to take but don't have the chance to. An educated employee can become a great asset, finding better ways to solve problems and becoming better at what they do.
How to get started:
Research free online courses that your employees can take right at your company. Establish times of the week for your employees to take their courses and follow up on them.

You can come up with a rewards system to incentivize your employees or have meetings where your employees can give quick presentations on what they learned. That way, everyone benefits!
10. Team outings
People thrive when they work with their friends. One of the best ways to make friends is by sharing a meal or taking a walk. They can lead to great conversations and multiple bonding opportunities over their shared efforts and struggles.
How to get started:
You don't have to take your whole team to a restaurant every day. Instead, try to keep people from having lunch at their desks as much as possible. Make sure the lunch area is comfortable and inviting.

Have ways for them to schedule a one-on-one with other employees to take a walk and chat. Sometimes, even a quick trip to the store can lead to a great talk!
11. Promote mental and physical wellbeing
Mentally and physically healthy employees are crucial for good employee performance. Improved mental health translates into focused employees that rarely get sick and do efficient work. And in stressful environments, taking care of your employees' health can reduce stress and turnover.
How to get started:
Research what you can do in your company to take care of your employees. Depending on your company's size, culture and budget, some options could be:
Great health insurance packages
On-site yoga and meditation activities
Healthy snack options for the whole office
Company involvement in charity runs
Collaborations with gyms for cheaper memberships for employees
Ergonomic work areas

Above all, nurture a good culture. A positive work environment can do wonders for your employees' mental health!
12. Open consistent lines of communication
Strong communication goes beyond chatting with people in the office. Your employees need tools to ensure they can reach the right employee at the right time.
How to get started:
Make sure your managers set up weekly meetings to check up on their teams. Have a system in place, like Slack, to make sure everyone can establish communication with other employees as soon as they need to.
13. Show employees how their job advances the company's vision
Your company should have a vision and yearly goals. Showing your employees how their job is advancing the company gives them a sense of ownership and belonging. It can also increase their motivation since they know what the end goal is and what they're working towards.
How to get started:
Use flowcharts to show individual employees how their work impacts the company as a whole. Sit down with teams and have a conversation about how their work reflects the company's mission. Then print posters listing down how their work influences and affects the company.
14. Have inclusive problem-solving meetings
Letting your employees have a crack at solving problems, even when it's outside of their department, helps them bond and feel more engaged. On the other hand, since everyone has a different point of view, the extra input can help develop creative solutions!
How to get started:
You can easily adapt this approach to your company by having an in-office, relaxed jam or an outing. Find a structure that lets your employees share challenges that they have and give input on other people's challenges.

Finally, take note of good problem-solvers. They can become great assets!
15. Show them what it's like to work in a different department
Showing your workers what's like to work in a different area can give them a better perspective of the company. The workers also get to show what they do and how they do it to other employees, which can be very rewarding!
How to get started:
Establish a day or half a day where employees visit different departments and get "training". Let the employees choose which department they'll be visiting and, if possible, have them complete a small task at the end of their training. And remember, the main goal is to increase engagement and cooperation, not to actually train them!

Keep it simple and keep it fun.
17. Gamify some goals
Videogames are incredibly popular, in part, because of their use of constant rewards. So, why not transform your employees' work experience into a game?
How to get started:
Define which tasks you can gamify. You can start simple by adding a leaderboard to a process or encouraging friendly competition in a sales environment with a reward system. If you want to take it to the next level, hire an expert or certify someone in gamification to better define and apply it to multiple processes.
17. Make sure new hires have an assigned mentor
Newcomers need to ask questions and learn quickly. The best way to do it is to have someone assigned to answer all of their questions and introduce them to the company's culture and values.
How to get started:
Before a newcomer starts working, assign someone to be their mentor or buddy. They should be an exemplary worker, friendly and knowledgeable. Go through the onboarding process with them and make sure they can answer all of the questions the newbie will have.
18. Have framed team photos
Having photos of your team encourages bonding and better working relationships. So why not showcase them?
How to get started:
You can start by simply encouraging each team to have a wall where they can hang their photos. Make sure you hire a photographer in every company event to print and frame photos of teams working together and having fun. Also, ensure that newcomers get their photo taken and displayed with the rest of the team!
19. Raise employees' salaries
Sure, not every company can afford to raise salaries, but doing it can directly impact morale, service and revenue. For example, Dan Price famously raised their employee's minimum salary to $70'000, leading to tremendous success. Raising salary not only increases morale, it also increases revenue.
How to get started:
Figure out if you can reduce costs and keep your employees in mind when your company is succeeding. Maybe you can start giving a small fraction of the overall company's revenue to your employees. Opt for better pay over lavish parties for them. At the end of the day, nothing trumps cash!
20. Celebrate people
More than holidays, celebrating people helps them feel appreciated and important to the company.
How to get started:
From birthdays to promotions, from welcomings to achieving milestones, there are always reasons to celebrate your employees. Find excuses to buy them cake and have people say a few words to the employees that are celebrated. Nothing makes someone feel more special than having a toast in their honor!
21. Make sure your employees have the tools they need
Although this doesn't sound like a typical engagement idea, it is quite important. If your employees don't have the right tools, their engagement will go down, regardless of how many parties you throw.
How to get started:
Don't just give your employees the tools they need, listen to their suggestions on the tools they'd like to get. Grow the budget for new tools along with your company and don't hesitate to invest in tools that can make your employees' job easier.
22. Host yearly awards events
The larger the company, the easier it'll be for achievements to get lost in the moment. That's why taking a special night to celebrate them can really show appreciation to hard workers.
How to get started:
Pick a date and decide on who you're going to reward and what you'll reward them with. You can pick categories like:
The employee with the most experience
The best-performing team
Top performer
Peer-to-peer recognition
Best customer service

Make sure to also single out people and make the reward process as straightforward as possible!
23. Celebrate employees when they leave
Building bridges with employees is very important, even when they leave. Celebrating employees for their time and effort when they move to a different company or retire shows the rest of your employees your company appreciates their work.
How to get started:
Make sure to include the people with whom they've worked the closest to verbally express their appreciation. You can celebrate them by having people share funny stories of their experience over cake or dinner. You can also include a parting gift for the employee.

The longer an employee stays at the company, the bigger the celebration should be!
24. Support volunteer programs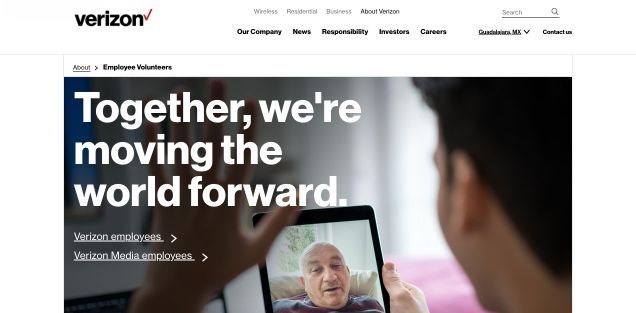 Being able to give back is very important when it comes to engagement. It helps employees feel like they work in a place that values more than the revenue they can generate. They can also bond with their coworkers and form relationships during their volunteer work.
How to get started:
Find a cause that fits with your company's values and encourage your employees to volunteer, even if it's during business hours. Make sure they're wearing the company logo and give them all the tools they need to do their volunteer work.
25. Define what employee engagement means for your company
Coming up with employee engagement ideas doesn't have to be hard. If you're struggling, why not just ask your own employees for ideas?
How to get started:
To better get your point across, start by making a list of what engaged employees look like. For example:
Engaged employees would love to recommend the company to their friends.
Engaged employees are punctual and meet their deadlines.
Engaged employees are proud to say where they work.
Engaged employees have all of their tools to do their job.
Engaged employees work in a comfortable environment.

Once you've defined what an engaged employee looks like, your employees will have an easier time to find out what's missing. You can then implement that input into your workplace.
5 Employee Engagement Activities Used by Popular Companies
Now that you have some employee engagement ideas, it's time to see them in action!
1. Google
Google's culture is legendary. At Google, it's normalized that people spend 20% of their time doing something other than work. Having playrooms, nap pods, massage parlors and other recreational options on campus foster creativity and engagement.
What you can learn from them
Don't be afraid of normalizing people relaxing at work. Let people take breaks when they need to while working towards objectives.
2. L'Oréal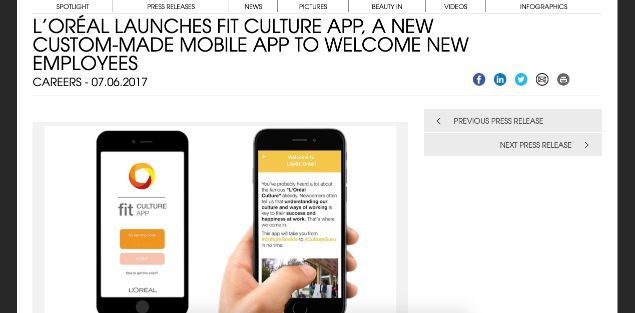 L'Oréal developed the world's first employee onboarding app, called "Fit", to help newcomers understand and embrace the company's team culture. The app helps over 10,000 newcomers per year by giving them "missions" they can complete in real life to practice what they learn.
What you can learn from them
Make sure newcomers have an amazing onboarding experience by not only giving them everything they need to start working, but by making sure they understand your company values.
3. Southwest Airlines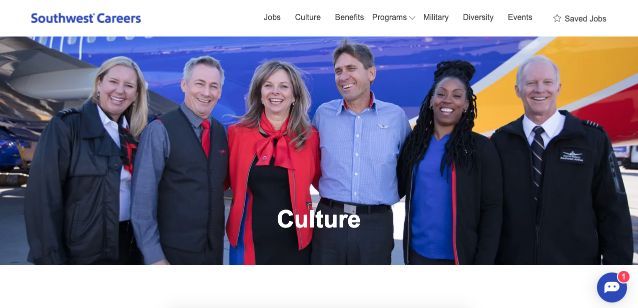 Southwest Airlines takes its purpose of connecting people into their company's culture. They make the environment is fun and engaging by allowing employees to design their uniforms and giving them more autonomy. With things like a flight attendant going viral over rapping the safety information, they've become famous for their fun work environment.
What you can learn from them
A fun work environment can be as easy as encouraging your employees to be themselves. That way, employees feel like valued individuals, even in gigantic companies.
4. Dreamworks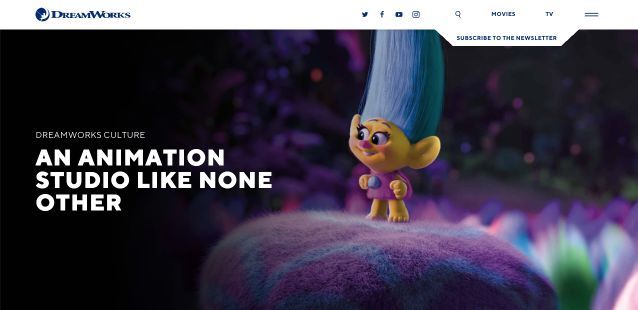 Besides having personalized work environments and big company parties, Dreamworks Animation employees are encouraged to share their personal and professional projects with each other. This lets people from multiple departments collaborate and boosts their creativity.
What you can learn from them
Proper communication is a great way of forming bonds and encouraging friendly collaboration. Foster an environment where employees can find friendly feedback among their peers.
5. Salesforce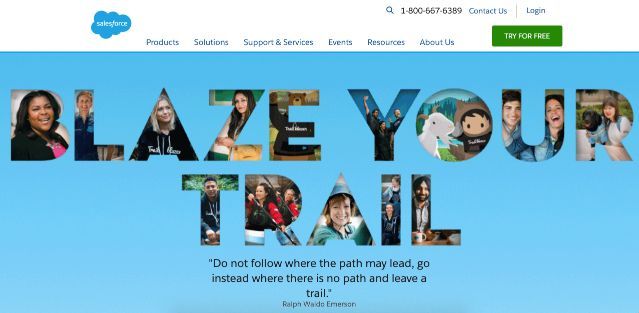 Salesforce offers its employees 56 hours of paid time to volunteer in their communities, as well as opportunities to join equality groups and dedicated mindfulness zones to meditate. The company has also taken strong stances on workforce development and equal pay.
What you can learn from them
Salesforce is a company that clearly lets their values guide their decisions. If your employees have clear opportunities to follow your company values and to give back to the community, they're more likely to feel engaged and proud of their work.
Conclusion
Not every company can afford to spend large amounts of money on lavish parties and company getaways. However, keeping your employees engaged can be as easy as showing appreciation and listening to their feedback.

Implementing employee engagement strategies is a great way to not only keep your employees for a long time, but keeping them happy and passionate!