Employee development is a great way for your company to achieve its goals by focusing on your most valuable asset: your people.

With a proper development plan, you can empower employees and give them the tools they need to grow. You can make sure their skill set is up to date and increase productivity while decreasing turnover rates.

In this handbook, you'll learn what it is, how it's used, and how you can create your own employee development plan today.

Let's get started.
What Is Employee Development In Detail (and What Are Goals)?
Employee development is an effort between the employee and the company to help the employee gain new skills and improve on their existing ones. This often results in a better ability from the employee to do their job, as well as gaining new skills to allow internal growth.

Constant learning and retraining are extremely important in the world we live in today. If your employees remain stagnant in their education, you could be losing your company's ability to remain competitive in the market.
When done right, employee development is a great investment in your staff.

It can help your employees find new ways to improve your company and renew their passion for their jobs. You, in exchange, gain better retention, productivity and engagement from them.
What Types Of Employee Development Programs Exist?
These five employee development programs are the ones most commonly used among companies of all sizes:
1. Orientation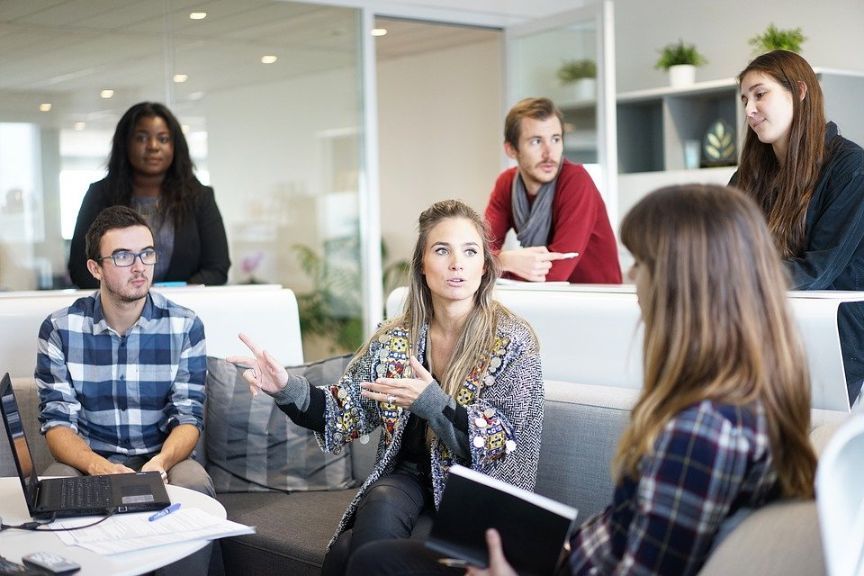 Orientation is the first and most common form of employee development. In orientation, you welcome the new hires to let them know what's expected from them and how they should achieve it.

This can include topics like:
Company's culture and structure
Mission, vision and values
Important company policies
Tour around the company
Receiving and filing mandatory paperwork
Basic administrative procedures
How to get started:
Orientation's goal is to get your new employees comfortable and ready to work. Make sure to tell them what to bring and give them a general idea of what to expect.

When developing your orientation program, have printed information on the most important things, like your company's principles and accesses. It's always a great idea to give your newcomers branded gifts, like coffee cups or tees, to get them excited to start working at your company.

Make sure your orientation is short and fully prepares your new hires for their first day at work.
2. Mentoring and coaching
Mentoring is when an employee, typically with more experience, is in charge of another employee to help them develop a skill. Coaching, instead, can be performed by employees or trained professionals.

Their objective is the same: to help an employee learn something one-on-one. They're very effective since the trainee receives personalized training and can ask questions that they may not feel comfortable asking at a classroom. It's also great at fostering strong relationships and collaboration at the workplace.
How to get started:
Whether you want to start with a coaching or a mentoring program, you should start small. Find which group of employees needs a specific skill. Then find the best people, whether inside or outside of the company or not, to teach that skill.

Once your program is set in motion, evaluate how long it takes to teach that skill and how cost-effective it is compared to a regular classroom.
3. Technical (hard) skills development
This type of training focuses on improving the skills that directly impact your employees' ability to do their job. This is a great way of making sure your employees are up to date with their knowledge and to make sure their processes are effective and productive.
How to get started:
First, identify the learning areas of opportunity of your employees. These can be coding and online security for your IT department, SEO and content writing for your marketing department, and even basic computer skills for your less tech-savvy employees.

You can then hire experts on the field to train your employees on the skills they need to have. Adjust your frequency and variety based on your employees' needs and turnover rates to make sure all of your employees are properly trained.
4. Mandatory training
Your employees will most likely need to follow certain government regulations. Depending on your industry, these can go from following simple procedures, like taking the trash through the back door, to more complex certifications, like the ones needed to operate heavy machinery.

Mandatory training can also be used to educate all employees on sexual harassment and discrimination.

All types of mandatory training can prevent employee issues and costly lawsuits while training your employees on the most important aspects of their jobs.
How to get started:
Usually, mandatory training is provided by the governments themselves. However, you need to make sure your company is in full compliance with government regulations.

Get legal help and ensure all of your employees go through their mandatory training at the right frequency.
5. Soft skills development
Unlike technical skills, soft skills are general skills that can be applied to all employees. Some of these skills are:
Leadership
Self-motivation
Responsibility
Teamwork
Problem-solving
Conflict resolution

These soft skills are incredibly valuable and can make a difference regardless of your industry and your employees' job.

Soft skill training is also a great opportunity for employees from multiple departments to interact and build relationships to ensure future collaboration.
How to get started:
Soft skills can be hard to teach effectively. That's why, once you decide on the skills you want your employees to learn, you need to decide if you should do it in-house or in an environment better suited for this type of training.

Look for experts in the field with psychology and human behaviour degrees, and take a close look at the program to make sure it fits your needs and your company's culture.
Employee Development Ideas & Best Practices: How to Master It?
There are multiple ways to help your employees develop and grow in your company. Here are some of the best practices and how to apply them today:
1. Foster a learning culture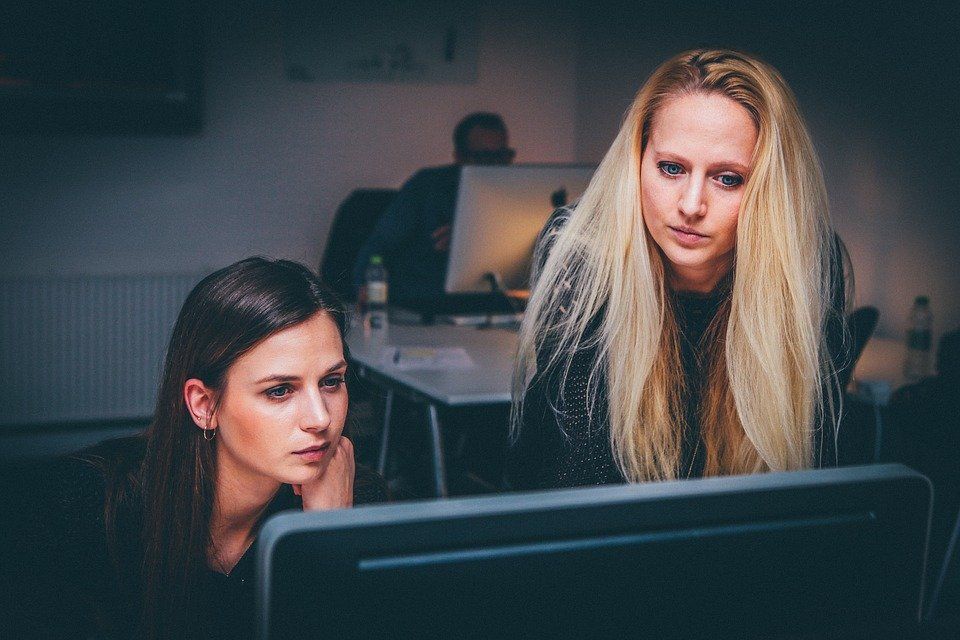 Your company culture needs to foster a learning and self-improvement desire. This desire will help your employees to acknowledge their learning gaps and motivate them to find ways to fulfill them.
Implement it today:
Start with building performance reviews around learning goals. Have managers meet with employees individually to find out what they need to learn and to keep up with their learning process. Make sure your employees have the tools they need and an appropriate time frame to acquire a new skill.

You can then implement internal training programs across different departments to help your employees learn from each other.

Keep employee feedback channels open to find out how to improve your training sessions and monitor their success.
2. Transform managers into coaches
Managers are constantly told to be good leaders, but, more often than not, they aren't given specifics on how to become one. A manager with great coaching skills will help your employees grow and can increase their productivity and engagement.
Implement it today:
Since your managers need teaching skills, you can start with a development program for managers. This program should include all the soft skills a coach must have, like teaching, motivational and inspirational skills.

Hire managers based on their capacity to help other people as well as their performance and give them chances to interact with the employees they manage. They should be aware of all the employee development programs you have available and recommend them to the right employees.
3. Give your employees a career path
A good employee doesn't work just for the day, it works towards a career. They want to improve and grow within your company. This hunger for growth can be incredibly beneficial for your company. On the other hand, if you don't offer them a clear path for growth, they'll quickly move to a company that does.
Implement it today:
Start outlining clear career paths that start from entry jobs and go all the way up to upper management. Give your employees good training that gives them the skills to keep growing.

However, all the training and career paths in the world won't work if your company doesn't follow through. That's why you need to make sure to look for talent inside the company first, before getting it from outside. If management positions are about to open up, open up management training to let your employees fulfill them.

If you find your company isn't hiring enough from within, invest in better employee development training and improve on the programs you already have.
4. Show your company's commitment to its employees
Employee development plays a large part in employee engagement when it's done right. If employees are continuously trained and helped to develop, fewer employees will want to leave your company. Nonetheless, when done wrong, your employees may feel like your company is asking too much from them.
Implement it today:
Make sure your employees have access to the options for employee development and that you communicate how much you value their personal growth.

This can be done by having fun training sessions, treating training as a reward for great performance, and offering clear advantages to taking it, like better positions and special recognitions.

Ensure to encourage growth among your employees and show them what they can get out of it. That way you'll make sure to train the best talent.
How to Create an Employee Development Plan (Step by Step)
Creating your employee development plan doesn't have to be hard. Here's a step by step guide:
Step 1: Consider business goals
Before drafting your employee development plan, you need to consider your current short and long-term goals. Where is your company heading? Are you looking to expand and hire new people? Do you need more sales?

Once you've identified your goals, you can identify the skills and knowledge needed to fulfill them.

Taking time to consider your business goals will ensure that your development plan is beneficial to your employers and helps your company go where it's heading.
Step 2: Communicate with your employees
The best source you can get to know your employees' needs and aspirations is your employees themselves.

Establish a clear line of communication to get to know the current challenges they're facing, where they'd like to go and what skills they're lacking. Find out what career path they have in mind and the obstacles they're facing.

By talking to your employees, you'll be able to create the perfect development plan for them.
Step 3: Define the skills your employees need to develop
Once you've narrowed down your company's and employee's goals, it's time to factor in your employees' potential and willingness to develop. Compare profiles and figure out which needs are the most pressing and how many employees would you expect to take the courses.

Now that you have a good idea of the profile of employees that'll participate, you can start defining the skills they'll need for both them and your business to succeed.
Step 4: Create a plan for before, during and after
Now that you have a list of skills and the type of employees that'll develop them, find out the best way for your employees to acquire those skills. Can you work with a current employee to teach the rest? Will you need to hire someone else? How long will this process take?

Define what success looks like and create a plan with specific time limits and goals to fulfill specific learning opportunities.

Once you have the plan, it's time to put it into action. Set the grounds by defining when and how the courses are going to be developed. Prepare any physical material to evaluate their learnings and look into schedules to make sure the development process won't impact productivity.

Once the training starts, make sure your employees understand what they'll be learning and what they can get out of it. Then, after the training is completed, monitor how they're applying their new skills.

Take time to evaluate the effectiveness of each training session. Document the process, the challenges and the results.
Step 5: Measure the results
Now that your employees are back at work and you have your data on the results, it's time to measure how their new skills are helping your employees. Keep up with them and ask them how they're using their new skills. Do they feel better prepared? Are the skills useful? Which parts are they not using?

Good employee development helps your staff feel appreciated and invested in the company. Make any changes you need to ensure their new skills are useful and their commitment to the company is renewed.
Looking for an employee development plan template? These 3 templates will help you out
To get the most out of your employee development plan, you need to document every step of the way. These three templates can easily adapt to your needs:
1. Online employee template, by Process.st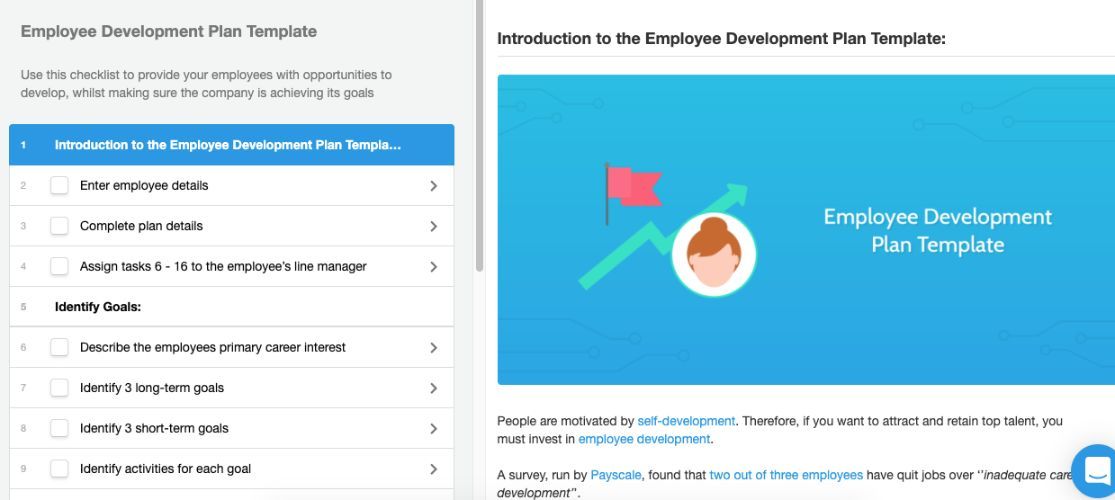 If you're looking for an online option, Process.st has the best option. Once you create an account, you can easily edit it to your needs.

This template helps you at every step of the way by giving you areas to identify goals and monitor the development process. All you need to do is to decide which areas you'll be using and filling those up. Then you can save it for future references!

Check it out here.
2. Individual development plan, by the University of California Berkeley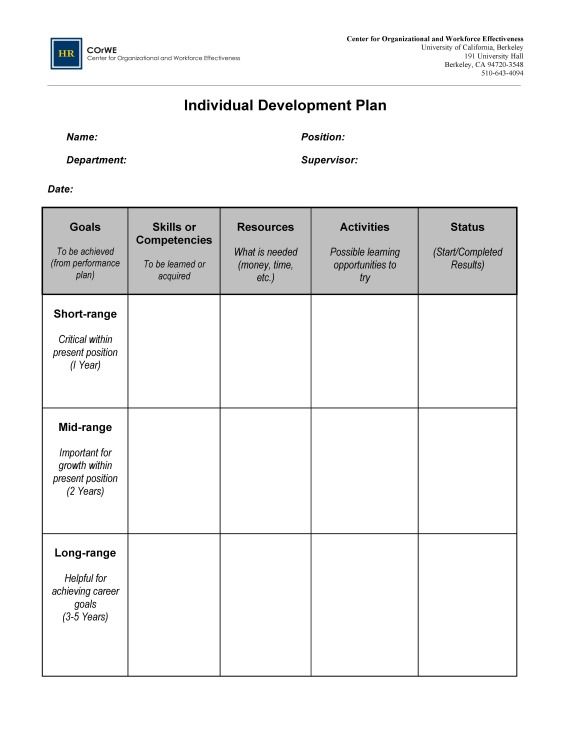 Individual plans are great to file under your employee's name and keep track of their development. This individual development plan helps you and your employee draft their career path on a short, mid and long-term basis, listing the skills they need to develop to get to where they want to go.

Download it here.
3. Employee Development Plan + ebook, by Talent Leader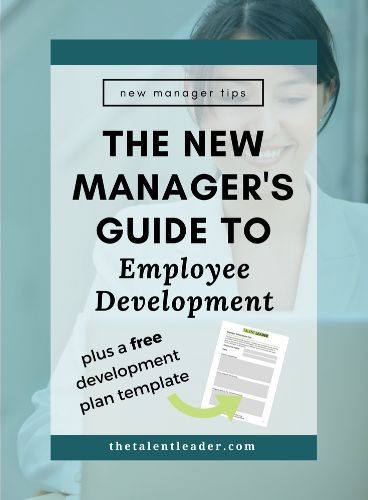 Talent leader offers you a great ebook that goes in depth into how to create goals and define skills for your employees' development. When signing up to their newsfeed, you'll get the ebook and the employee development template, for free!

Sign up here.
Conclusion
Employee development can be one of your most valuable tools. By investing in your people you can give them the chance to raise upon the ranks and get the best managers for the job. With a good employee development program, your employees will feel cared for and your company can ensure to have the best talent available for the job.

Remember: a happy employee is a productive employee. And, when you let them develop with proper training and coaching, you'll both yield the results.