Do you want to develop and use values that'll truly inspire your team?

Your company needs to have its own culture.

Why?

Because your culture can build up and shape the morale and the environment surrounding your workers. With a good environment, your workers will be highly engaged and motivated.

But developing your values isn't as easy as sitting down and writing some inspirational lines. Your values need to be unique, easy to understand and aligned to your company's image.

In this article, we'll show you how to write company values and how to use them to inspire your team.

Let's start!
What Are Company Values?
Company values, also known as core values, are the principles your company is built around. They're used by your company as behavioral principles to know how an individual, a team and your company as a whole interacts with other individuals, teams, and companies.

Good company values affect your business as a whole, from you hire people to how you treat your competition. With clearly defined goals and values, you can hire the right people and differentiate yourself from the competition.

If the company values aren't followed, they, at best, will be completely useless and, at worst, can be perceived as hypocrisy by your clients and employees.
Why Should You Have Company Values?
Company values are the basis of your company's team culture. By defining your core values, you define your company's identity and what it stands for.

Since your core values affect every aspect of your company, they're extremely in multiple areas.

How?
Core values help your company take decisions
Say your company is handling an aggressive marketing campaign from their competition. Should your company ignore the campaign? Should it directly respond to the competition? What will your company say if it does respond?

Company values will guide your company's behavior in any crisis.
Core values help your clients differentiate your company from the rest
Take Rolex and Casio. Rolex's identity is built around luxury and class. Casio is built around affordability and reliability.

Having clear values will help your company's identity to be clearly defined by the public.
Company values help inspire your employees
Is your company built around quality? Then your employees can find places where quality control is missing and implement it. Is your company built around your client? Then your customer service employees can come up with ideas for your clients to be happier and better treated.

Your core values can help your employees identify what your company is missing and inspire the solution in them.

But how can you create core values that properly inspire your employees? Let's start by looking at the best in the business.
Popular Company Core Values Examples to Get Inspired
Google Company Values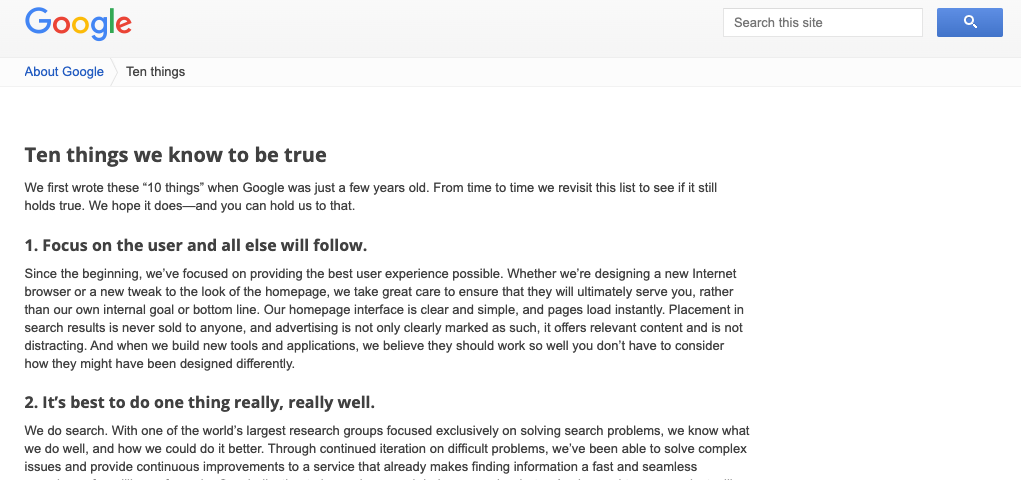 Focus on the user and all else will follow.
It's best to do one thing really, really well.
Fast is better than slow.
Democracy on the web works.
You don't need to be at your desk to need an answer.
You can make money without doing evil.
There's always more information out there.
The need for information crosses all borders.
You can be serious without a suit.
What can you learn from them?
Google's core values are the basis of its famously open and focused culture. They also provide a very clear guide on what employees should look like: focused on the user, specialized on what they do, fast and committed, regardless of if they're behind a desk or not.

Google's values have also been tweaked and redefined over the years, evolving along with the company. Your values should also evolve and grow along with your experiences and your needs.
Amazon Company Values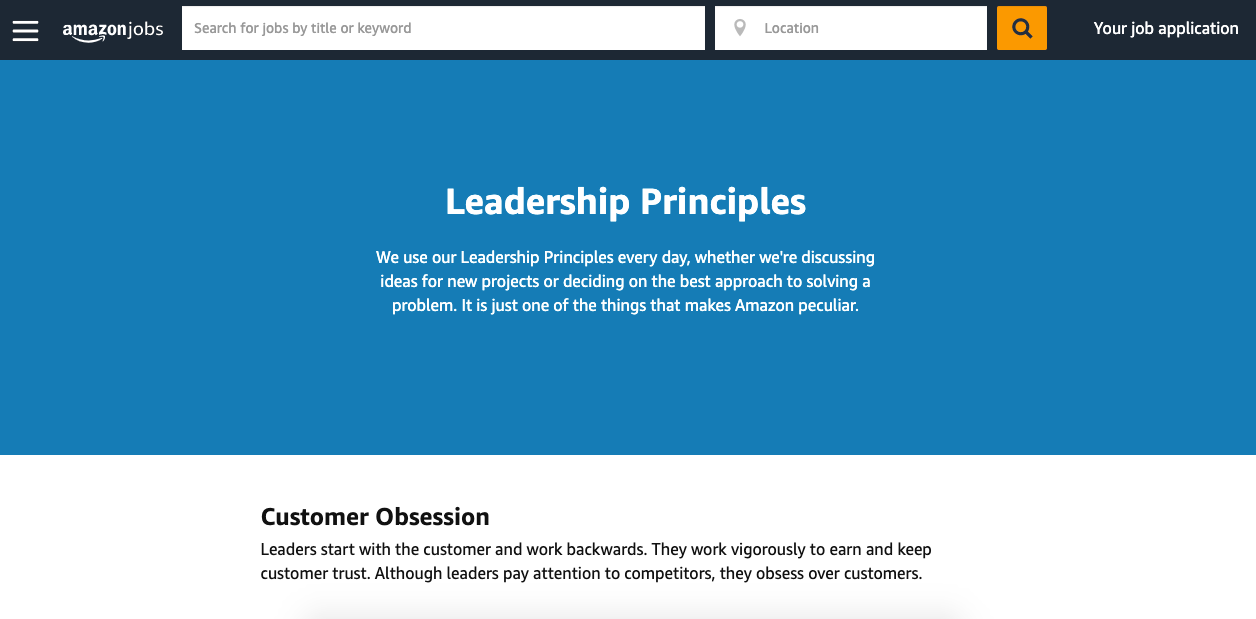 Customer Obsession
Ownership
Invent and Simplify
Are Right, A Lot
Learn and Be Curious
Hire and Develop the Best
Insist on the Highest Standards
Think Big
Bias for Action
Frugality
Earn Trust
Dive Deep
Have Backbone; Disagree and Commit
Deliver Results
What can you learn from them?
Amazon puts its vision right in their "Jobs" website. This makes it clear to anyone looking to work at the company what Amazon is looking for when hiring. Amazon clearly looks for people who are strong-minded, customer-focused and driven by results. The values also clearly delign how a leader should look like.

Your company values should tell your employees how they should work if they want to grow in your company.
Uber Company Values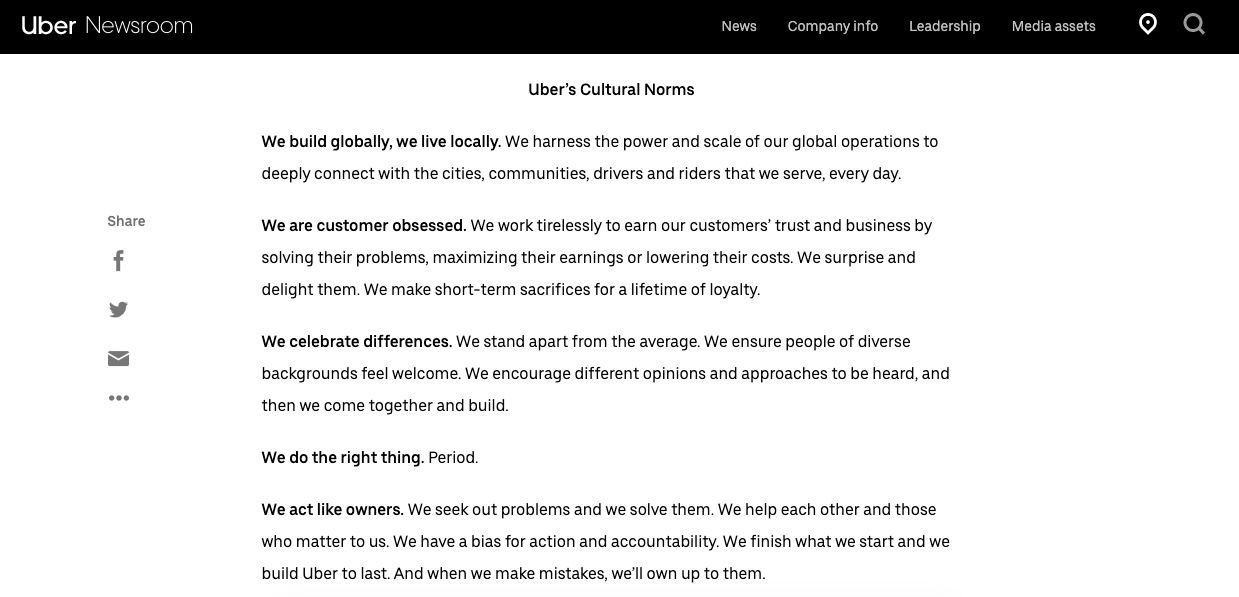 We build globally, we live locally.
We are customer-obsessed.
We celebrate differences.
We do the right thing.
We act like owners.
We persevere.
We value ideas over hierarchy.
We make big bold bets.
What can you learn from them?
When replacing the old CEO, the new CEO, Dara Khosrowshahi, also replaced Uber's company values. Khosrowshahi asked for value submissions and then developed them with 20 working groups.

If you're creating new company values, involve your employees and have them suggest to you how the company should behave. This will create engagement and ownership, which will help your employees embrace and adapt to your values quickly.
Apple Company Values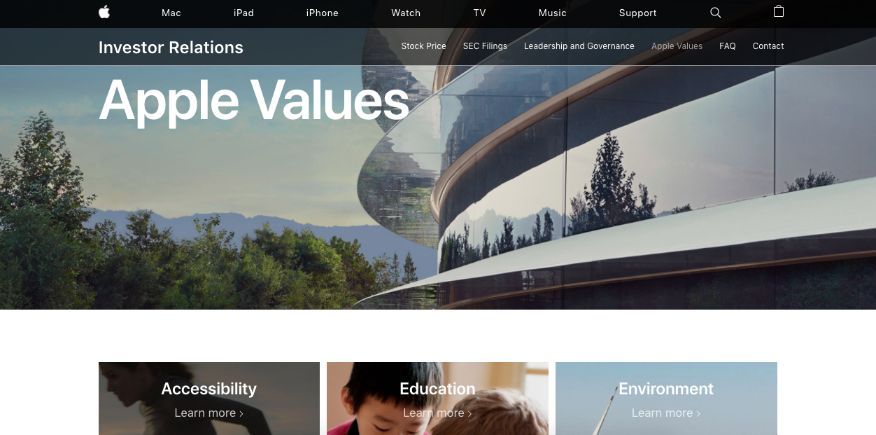 Accessibility
Education
Environment
Inclusion & Diversity
Privacy
Supplier Responsibility
What can you learn from them?
During 2015 and 2016, the FBI asked Apple to create a piece of software that would unlock an iPhone belonging to one of the San Bernardino attackers. This placed the company in a dilemma: would they cooperate with the FBI, willingly creating a backdoor to use in every iPhone or would they challenge a direct order from the government?

Your company's core values should also help your employees make the right decisions, even in the hardest situations.
Nike Company Values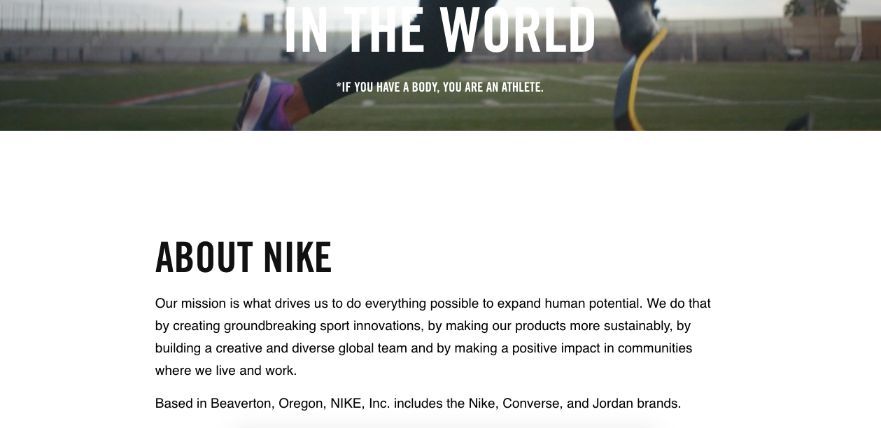 Inspiration
Innovation
Every athlete in the world
Authentic
Connected
Distinctive
What can you learn from them?
Nike's core values highlight what they aim to produce: innovative and distinctive products for athletes. Although they have one of the most memorable slogans of all time (Just Do It), their values further define not only who they are and what they do, but who their clients are.

Even if you already have a well-defined and recognizable brand, values can give depth to your company's identity to both your employees and your clients.
Netflix Company Values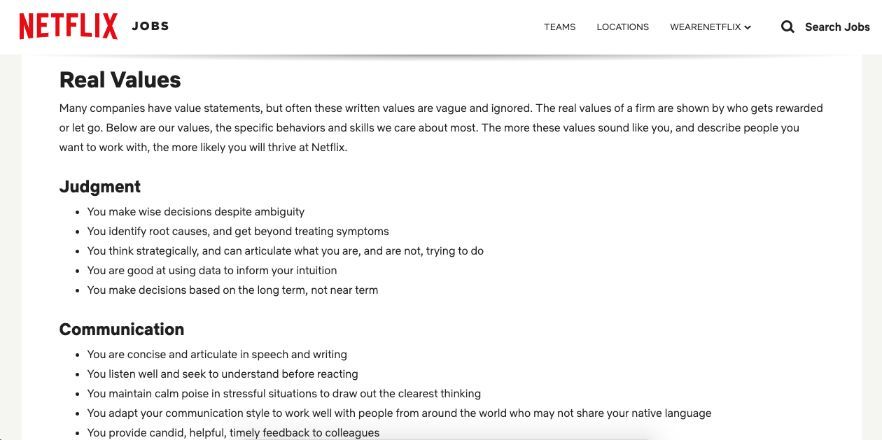 Judgment
Communication
Impact
Curiosity
Innovation
Inclusion
Courage
Passion
Integrity
Selflessness
What can you learn from them?
In their introduction, Netflix points out how companies claim to have values, only to be ignored. They then talk directly to their potential employees to say that, the better they follow their values, the better their chances are of thriving at the company.

Don't have values for show. Craft your values so they truly reflect your company and reward the employees that better reflect what your company stands for.
40+ Examples of Company Values You Should Know
Looking for ideas? Here are over 40 examples of values your company could have. We wrote them in third-person but you can feel free to change them to fit your needs:

Do the right thing: Behave well, even when no one is watching.
Explore: Find new problems and new solutions.
Don't wait: Take every opportunity and fix every issue before doing anything else.
Be kind: Treat your teammates and your clients like you'd like to be treated.
Be free: Take a break when you need to.
Make something better: Face every challenge and improve your environment at every chance you get.
Think globally: Don't be afraid to take your ideas to the next level.
Be hygienic: Cleanliness is key.
Flexibility: Find the best balance between work and home.
Optimize for the future: Don't look for quick fixes.
Be a patriot: Love and respect your country.
Have empathy: Put yourself in the other person's shoes.
Believe in tech: Trust the machines you work with.
Philanthropy: Help those in need.
Win-Win-Win: Find the best course of action for you, your team and your client.
Be Practical: Offer solutions that work and are feasible.
Be Informal: Don't use jargon when you can use simpler terms.
Be your own CEO: Take charge of your own situation.
Be Loyal: To your team and your values.
No Bureaucracy: Remove the red tape.
Speak Up: Offer creative and constructive criticism.
Be Democratic: Trust the majority when making decisions.
Put the customer first: The customer's needs are above everything else.
Be punctual: Deliver on time.
Act with integrity: Be honest and pursue truth and justice.
Self Motivate: Find new ways to keep yourself motivated and productive.
Put Your Team First: Look for what's better for everyone, not for a few.
Empower: Motivate and build up your co-workers.
Bring your 'A' Game: Stay at the top of your game with an optimistic attitude.
Be a believer: Believe and commit to your company's success.
Be Admirable: Become the kind of person people look up to.
Build Social Value: Bring value to the community.
Give Joy: Make people feel good around you.
Stay Open: Listen to others, even when you don't agree.
Be fast: Do your job quickly and find simple solutions
Be Helpful: Look for opportunities to help other people.
Play: Celebrate and have fun while working.
Breathe: Pause to think and find a good solution
Exceed Expectations: Go the extra mile when working.
Keep Learning: Find ways to improve and learn from your mistakes.
Be Generous: Share your time, your knowledge and your expertise with others.
Be Passionate: Love what you do.
Be Decisive: Produce results quickly and effectively.
Live our Mission: Apply our mission in every action.
How to Craft Your Own Company Values
Crafting your company values doesn't have to be hard. Here's how:
1. Build a team
Bring together the people that are better equipped to define what your company stands for. This team can consist of the founders, the workers with the most experience and the people that embody your company's vision.
2. Brainstorm for value ideas
Talk about what your company represents and where it's heading. Feel free to involve other employees and ask them what they like about the company and how the company could be better.

Ask questions like:
What are our main goals?
Which treats do we value the most in our employees?
What do we need to grow our company?
What kind of people should we hire?
How can we make this company better?

After a while, you'll start to notice trends. Take note of those and keep brainstorming until you and your team feel like you've done all you can.

This is the most important step so don't rush it. Take your time.
3. Define your values
Once you have your trends, start defining which values reflect them the most. Find ways to combine values that are too similar and make sure your values are simple and easy to understand.

Don't have values just for the sake of having more. The more you can condense them, the better.
4. Implement your values
When presenting your newly-defined values, make it as memorable as you can.

Don't just roll them out in an email. Try to make it into an event where your employees can learn and practice the new values.

Make sure they know exactly what each value means and how it can impact day-to-day operations.
5. Adapt and evolve
Your values should grow and change with your company.

If you feel your values are no longer relevant, don't be afraid to revise them and start all over!
Conclusion
Good company's core values can guide and inspire your team. They can help you stand out among the crowd and become memorable to your clients.

If you want to ensure your values are effective, make sure everyone in your company is living by them, not just walking past the plaque every day!