While the success of a company is measured by a number of factors, some factors have been proven to positively affect a company's success in several ways. For example, employee satisfaction has been shown to improve the overall happiness of employees and the productivity and sales of companies around the world. Below, we've written all about employee health and ways you can incorporate various tactics into your own business.
What Is Employee Health? (And How Can You Evaluate It?)
Employee health refers to the overall wellness of your individual employees. It can be separated into physical and mental wellness. In recent years, companies have been prioritizing employee wellness because it's linked to increased productivity, fewer sick days, and more.
According to SMF, employees who had lower life-satisfaction scores also experienced more sick days. In fact, they took an average of 1.25 more sick days than those ranking higher in life satisfaction scores. The same website has reported that the ROI for investing in workplace wellness programs has been as much as $3 per $1 spent.
One of the best ways to evaluate and improve your employee wellness is to follow competencies such as responsible communication resilience, engagement or vibrancy. This way, you can build employee wellness in the workplace.
Why Is It Important to Care about Employee Health?
While we briefly covered this issue, employee health is essential for companies looking to improve the overall atmosphere of their business and increase their sales and productivity.
Forbes has published articles about the impact of employee satisfaction on overall productivity in the workplace. In fact, teams that foster close relationships and wellness have experienced 21% more profits than other companies. Here, we can see a clear correlation between companies that are willing to invest in their employees' wellness and the ones who make more sales. The companies mentioned in this study experienced a staggering 60% smaller turnover rate and a 41% reduction in sick days.
While some companies avoid investing in wellness programs because of the initial cost, it's certainly proven to be cost-effective in the long run.
17 Actionable Ways for Your Business to Improve Employee Health (Which Were Stolen from Successful Companies)
Now that you know more about what employee wellness is and why it's important, it's time to hear about the best in the business!
Tactics to Improve Employees' Mental Health
Wellness goes way beyond the household, and it isn't just the responsibility of your employees to improve their own mental health. To learn about ways to incorporate mental wellness strategies into your business, keep reading!
Opportunities for Development - Resolver Inc.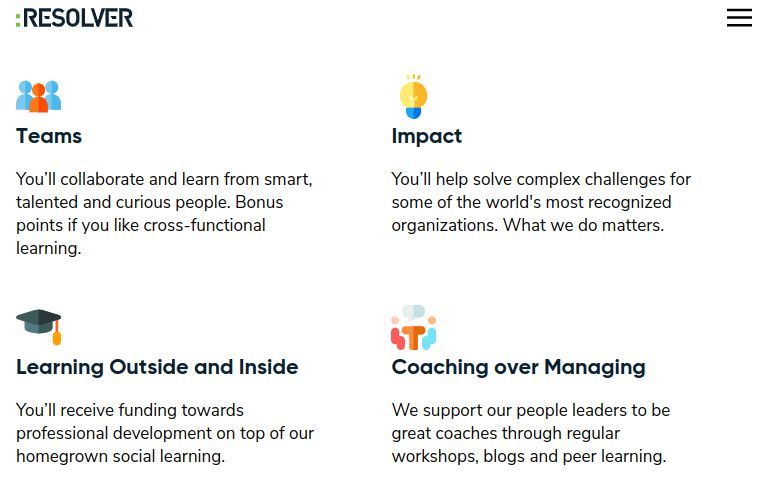 Resolver Inc. is a software company that provides organizations with complete solutions. This company primarily focuses on corporate security, governance, risk, compliance, and information security.
Resolver provides its employees with the opportunity to grow into more fulfilling positions. This tactic is such a priority that they provide $2,000 to employees looking to expand their career. This strategy appears to work because more than ¾ of their employees have been hired internally, which means they were promoted into more fulfilling and high-paying roles.
You can incorporate this strategy in your own business by providing your employees with incentives to develop their professional skills and opportunities to get promoted. When your employees have the chance to earn more money and land more fulfilling jobs, they'll experience a considerable difference in their mental wellness. According to Women's Health Magazine, the importance of having a fulfilling job is so important that an increasing number of people are leaving their jobs to go to companies that prioritize happiness.
Fostering Friendships at Work - Axonify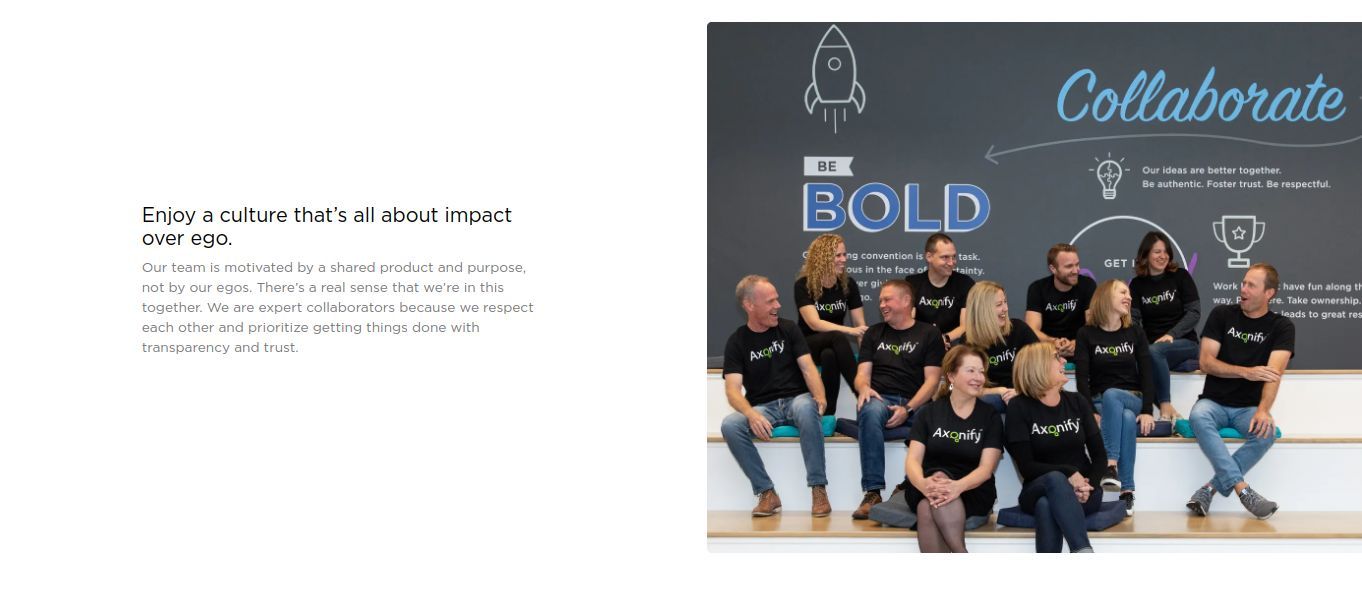 Axonify primarily works with frontline employees, in order to ensure that daily tasks and projects are being properly performed and completed. Axonify works with companies like Levi's and Walmart. These companies believe that working with your frontline employees will also benefit your backline employees.
Axonify encourages employees to get to know each other and mingle at work by fostering and promoting events that encourage friendships. It accomplishes both goals by buying employees lunch if they eat with someone they don't already know.
You can use the same tactic in your own office. If you're not willing to buy entire  meals for employees, you may want to consider investing in snacks for your kitchen or in employee nights out at restaurants.
Childcare and the Workplace - Kronos

Kronos is well-known in the tech world for its ability to tailor its solutions to the needs of employees and managers alike.
This company takes family to heart and pays employees up to $500 per year for childcare. This money goes a long way for daycare, babysitters, etc. You can also incorporate childcare into the workplace by a space for daycare in the office.
Having Fun - Intuit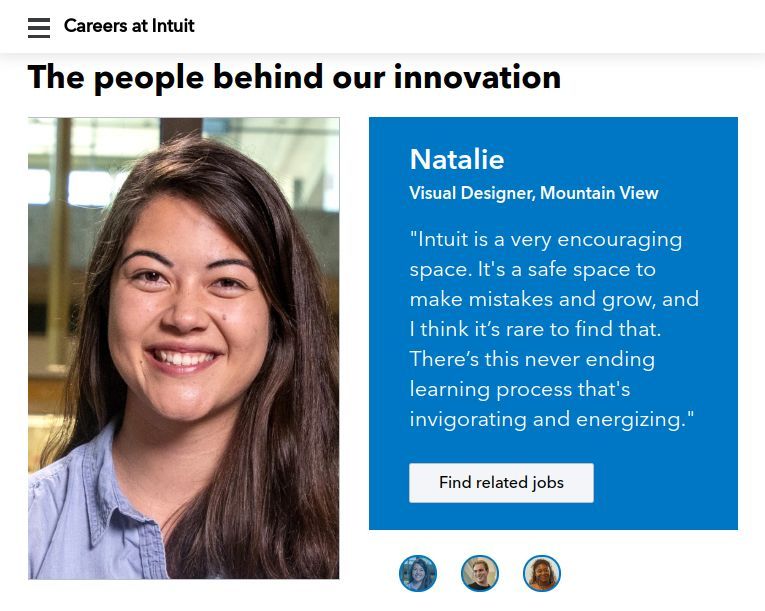 Intuit is known for providing companies and individuals with financial solutions. They use a combination of trained staff, technology, and automated tools to ensure their clients are getting the best service possible.
Intuit's overall company culture prioritizes its employees. According to Forbes, 61% of employees in the United States are burned out. To prevent this trend from occurring in their own companies, Intuit makes sure to provide their employees with ways to have fun in the workplace—by hosting activities, dinners, and more.
A definitive way to incorporate more fun into your office involves providing pool tables, board games, etc. This tactic allows your employees to truly relax when they take a break and engage with those around them.

If you want to incorporate this tactic into your business, consider investing in entertainment throughout the office. Some companies may buy a TV, while others will create a sports team.
Management is Like Family - Ultimate Software

Ultimate Software is a tech company that's developed and sold UltiPro, which is a cloud management system that's used across a number of industries.
The leadership and management at Ultimate Software makes the company very special. Employees are reportedly able to talk to their leadership about anything, including their personal lives. Perhaps this tactic is one of the reasons why this company has now grown to employ over 4,000 people since it first started in 1993.
If you're looking for more ways to ensure that your employees can talk to your company's leadership about more than upcoming sales and projects, you can do so by starting with yourself. You may want to make the effort to go around and get to know your employees beyond their roles in the company.
Career Advice - Salesforce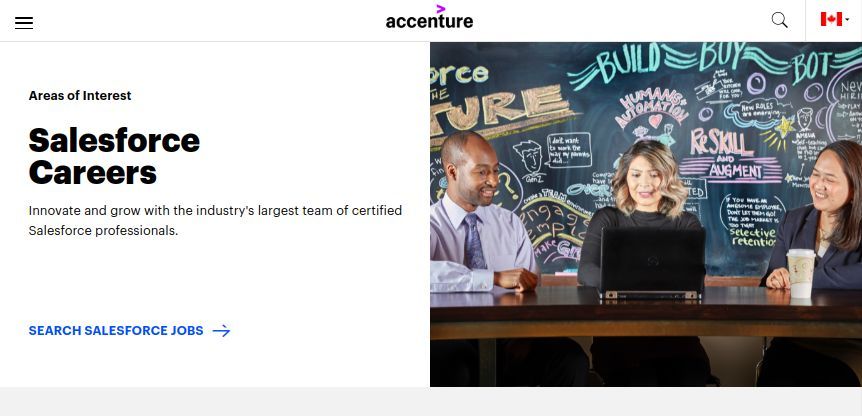 Salesforce is an American company that provides customer-relationship management services. It's also known for selling a number of applications that are customer-facing and promote marketing analysis, application development, and more.
The reason so many people love working for this company is that they don't just build professional friendships in the office. Managers at Salesforce are known for caring about their employees, and they even sit down with them to help them plan out their careers. By doing so, management is helping them build a life that's more fulfilling and focuses on their overall happiness.
To incorporate this tactic into your own office or business, you may want to consider getting to know your employees better and learning about what inspires them.
Praising Successes - Cisco

Cisco develops, sells, and maintains networking hardware, software, and other necessary technology equipment. From 5G to Cybersecurity, Cisco has solutions and information for any topic in the industry.
A major bonus for Cisco employees is that they receive significant amounts of acknowledgement for jobs well-done. They generally feel like their opinions are always valued and like they have opportunites to share their ideas. But they feel listened to, and they're even praised for sharing. This consideration goes a long way toward making employees feel comfortable at work and creating a safe workspace.
If you want to find new ways to acknowledge your employees, you should pay attention to what they're suggesting and acknowledge when they're doing a good job. You can even send out emails or make announcements, in order to make sure everyone knows he or she is doing a good job.
Allow Employees to Drive the Business - TaskUs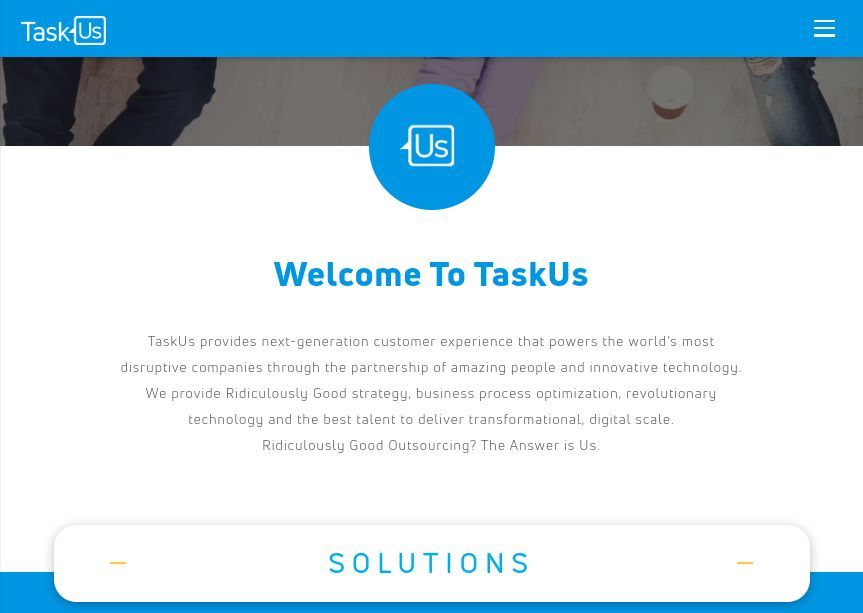 TaskUS primarily focuses on outsourcing customer support. This company provides solutions for consulting, customer experience, and back-office support.
TaskUs understands that employees are the driving forces behind successful companies. So it allows its employees to create their own experiences with their colleagues. For example, they've gone skydiving.
To start using this tactic in your business, consider asking your employees what they think makes the business thrive and how they see the business developing. You can also ask for ideas for team-building activities.

Reflecting Values at Work - Fanatics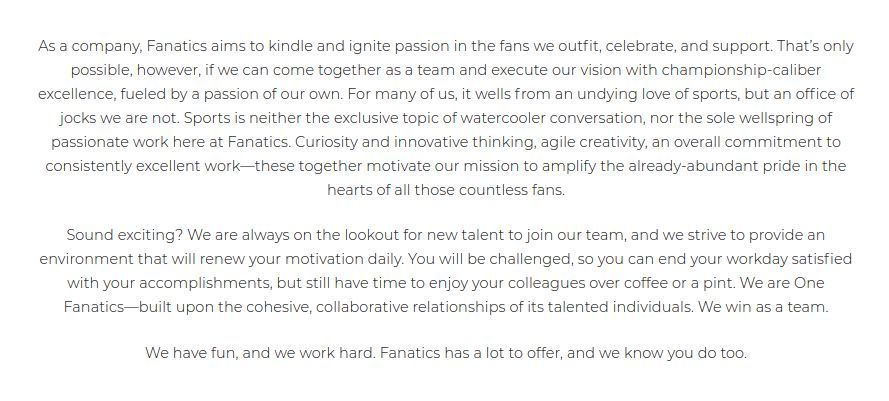 Fanatics sells sports merchandise that's already been licensed. It first opened in 1995 in Jacksonville, Florida.
Consider the heavy influence on sports in this company. It makes sense that they want their employees to be passionate and knowledgeable about sports. So they encourage  employees to pursue activities they love  (e.g., watching sports) and providing them with tickets to sporting events, in order to relieve stress and prevent burnout.
Based on this example, you might want to consider ways to incorporate more fun into your own business and promote events that reflect your business' values. This effort will make it significantly easier for employees to come to work, and it will make the overall atmosphere of your business more enjoyable.

Lay Back on Supervision - Dynatrace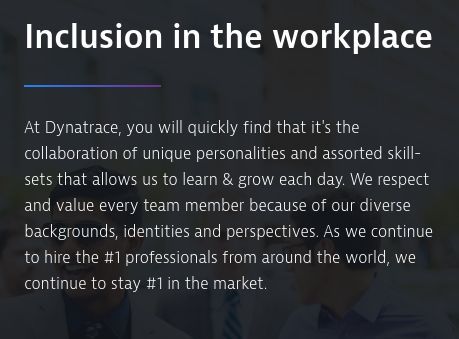 Dynatrace is well-known in the tech industry because it provides superior software intelligence platforms for IT departments.
This company focuses on trusting its employees and easing up on supervision. It makes an  effort to prevent stress in the workplace and promote employee confidence. Workers are allowed to manage their own workload and figure out how to make their hours work for them.
To use this tactic in your own business, you may want to consider whether you're allowing your employees to control their own lives and workloads. If you're not, consider reducing your amount of supervision.
Tactics to Improve Employees' Physical Health
It can be hard for employees to juggle their physical and mental health, which is why installing physical wellness programs in your business can have such a positive impact.
Flexible Work - MasterCard Canada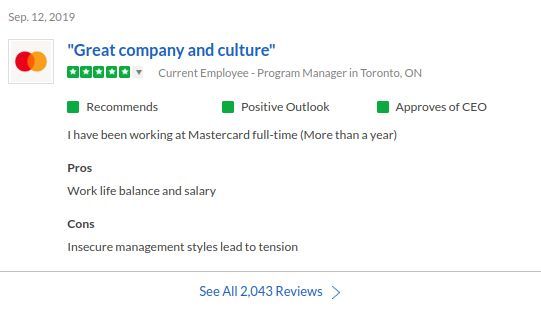 MasterCard is known for accepting people from any income bracket and providing lower interest rates than other credit cards on the market.
MasterCard is one of the many companies that prioritize flexible work schedules to improve employee happiness. They accomplish this goal by straying away from the usual 9/5 routine and allowing their employees to make their own schedules. According to FlexJobs.com, 87% of people they surveyed would be more likely to love their jobs if they had flexible work schedules.
You can incorporate flexible work schedules into your business by allowing your employees to work from home and encouraging them to work more flexible hours.
Incentives for Exercising - Sparkrock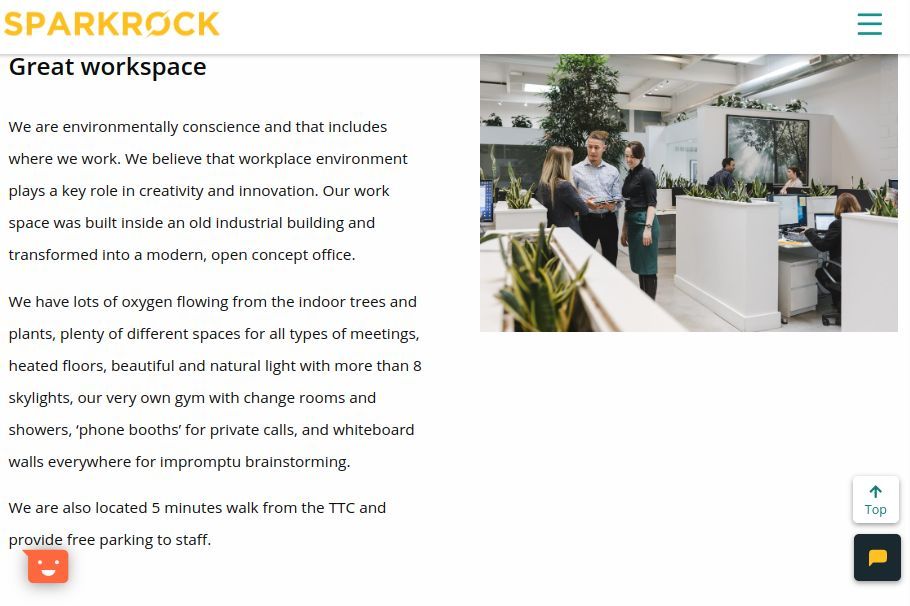 Sparkrock provides accounting software to nonprofit organizations and K12 school districts. It also hosts an annual conference called Fuel Good, which focuses on new approaches in technology and customer-facing solutions.
Sparkrock incentivizes exercise by providing their employees with $5 for every day they ride their bikes.
You can incorporate a similar philosophy into your own business by providing your employees with incentives for going to the gym. In other words, you can provide your employees with fitness challenges or incentives to bike to work.
Gyms and the Workplace - Pace Technical Services Inc.
Pace provides IT solutions and cloud services for various companies. They aim to provide small and midsize companies with proactive solutions
According to an article by Forbes, some companies are focusing more on exercise programs, in order to help improve their employees' mental and physical wellness. In a survey, 11% of one company's employees reported having enough energy the day before. In an effort to increase employee engagement and wellness, companies like Pace have incorporated gym programs. Pace provides up to $200 per year to employees who are members of a gym. Your company can incorporate this tactic by providing either physical rewards (e.g., , kitchen appliances) for going to the gym.
All About Training - Google
Google is one of the most successful tech companies in the world. Its search engine can provide a world of information to anyone with internet access.
It's no secret that Google has excellent programs in place to help support employees and their overall wellness or careers. Some headquarters have incorporated ping-pong tables, nap pods, LEGO stations, laundry rooms, and more. Google also incorporates training from fellow employees, so the ones who have specialities or experience in specific fields can provide training to other employees.
If you want to incorporate this tactic into your own business, you may want to consider what your employees have to offer. You can realize this goal via interviews, surveys, and more. From there, you can create the opportunity for employees to teach each other. You may also want to look at amenities you can offer, which could include washing and drying services.
Opportunities to Improve Income - Workiva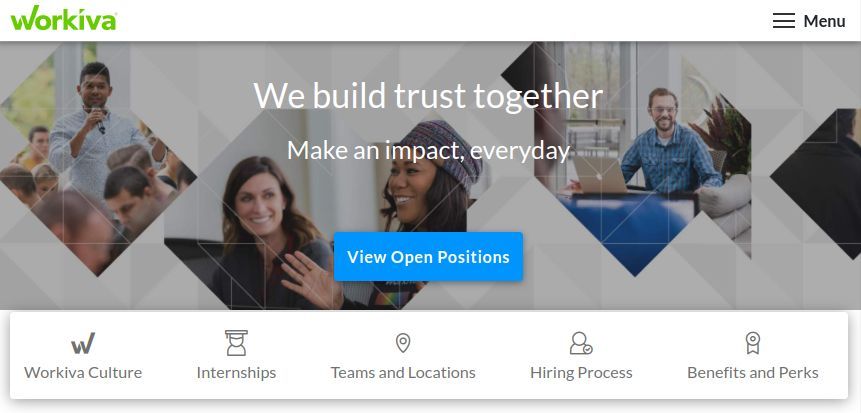 According to the Workiva website, the company "provides reporting and compliance solutions for accounting, finance, adult, and internal controls." Based in Iowa and founded in 2008, the company was able to build its annual revenue to just under $250 million by 2018.
Not only has Workiva been able to build its own revenue, it also helps employees rapidly build their incomes. For example, some employees have seen as much as a 55% increase in income in the last 8 years. While this situation can be considered both mental and physical wellness tactics, individuals  with higher incomes experience lower rates of obesity, heart disease, and more.
A definitive way to improve your employees' income involves offering a higher income. If you don't want to start this way, you can also provide them with opportunities for career advancement, which will also result in higher wages.

Wellness Centers at Work - Edifecs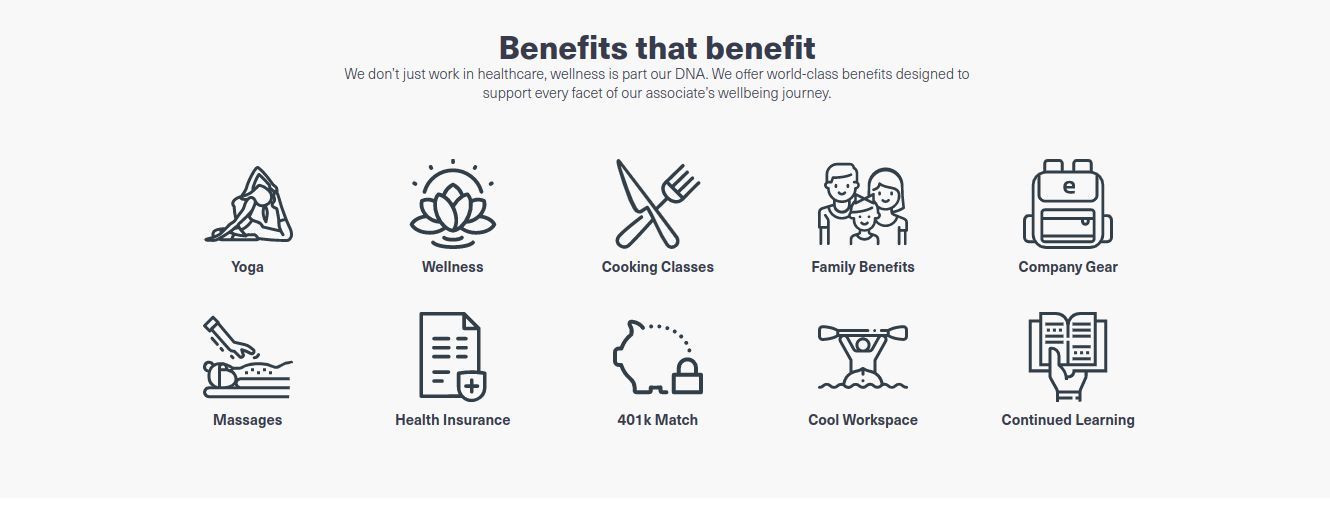 Edifecs works primarily in the health field. In fact, this company produces products and solutions for healthcare information management .
Edifecs makes sure to incorporate its own values into the daily lives of its employees. While the company allows employees to work remotely, its physical office is also complete with kitchens, a gym, and a wellness center. At this center, employees can get free massages.
While you don't have to build an entire wellness center in your office, you can learn from this company by focusing on your employees' physical health more often. For example, you can invite a clinician or psychologist into the office once a week to maintain the wellness of your employees.
Focus on Amenities - Overstock.com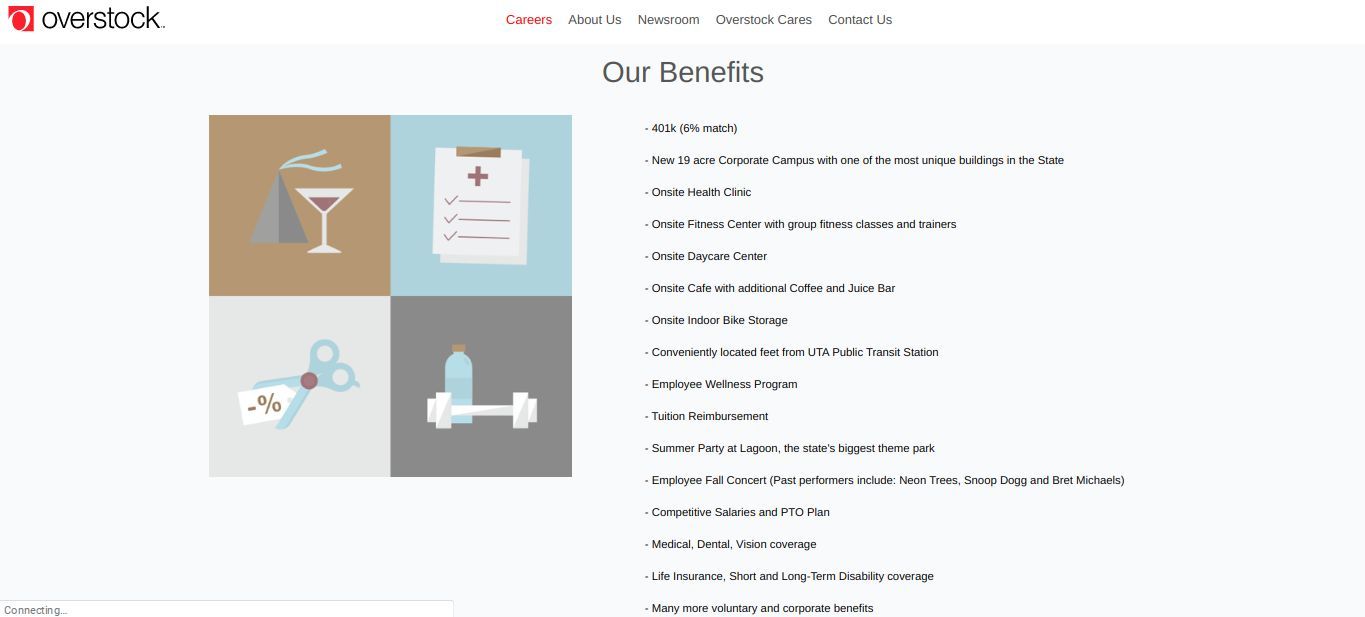 Overstock.com is an ecommerce company that provides common household products and furniture at a discounted price.
Overstock focuses on providing its employees with amenities that will improve their overall wellness. The company has a gym, cafe, game space, and greenhouse, in order to ensure that everyone has the opportunity to keep up with their health.
You can also focus on amenities by starting out small. For example, adding coffee machines or coffee shops could be great places to start. You may also want to consider investing in some weights or a gameroom.
Conclusion
Employee wellness has recently been making headlines because of rumors that it has a lasting, positive impact on various businesses. While some are skeptical about taking this step, the statistics make a clear argument for investing in employee wellness. By prioritizing your employees' mental and physical health, you can experience happier workers, less turnover, and increased productivity.