Team culture has made headlines in recent years, and it is widely understood that by having a full grasp of this concept, you can improve productivity, efficiency, and the overall atmosphere of your workplace. We've created this guide because we know that it can be difficult to hone in and improve on your team culture.
What Exactly is Team Culture (and Why Should You Care?)
Team culture is the collective goals and attributes of a company or team. This is an essential concept to understand because it identifies how employees and team members treat each other.
Team culture can be both positive or negative and will be a determinant of how efficiently a project or job is completed. Team culture is not concrete; rather, it is something that can be seen and felt among those who are either part of the team or those who surround the team. Something that companies and organizations often get wrong is that they focus more on material objects than they do on company values. Having a luxurious lounge area doesn't make up for a team culture that makes other members or employees uncomfortable.
According to an article published by EHS Today, employees who are empowered experience an increase in job satisfaction and lower turnover. This is largely because employees who feel valued and recognized will work harder in their jobs and for their supervisors. Not only this, but employees who are made to feel included will be able to build more sustainable professional relationships within the team.
How to Evaluate Your Current Team Culture Using a Team Culture Survey
The best way to evaluate your team culture is to simply ask your team. This way, you can also determine your team's engagement levels. To evaluate your team culture, a specially designed survey is one of your most efficient tools.
In the team culture survey, you can ask your employees questions or have them fill out true or false answers to get an overall picture of what your culture looks like. You can ask specific questions that discuss their level of comfort within the team, as well as whether they feel like they're a good fit within the team. Because your team's culture will greatly impact how quickly and efficiently goals and business strategies are carried out, you may want to consider investing the time into performing a culture survey.
A team culture survey also provides you with a set of data to compare over time. This way, you can have a clear image of which practices work for your team and which do not. As a result, you can create a positive and supportive culture and business plan to help your team grow and complete goals.
Here's an example of a team culture survey you can use with your team.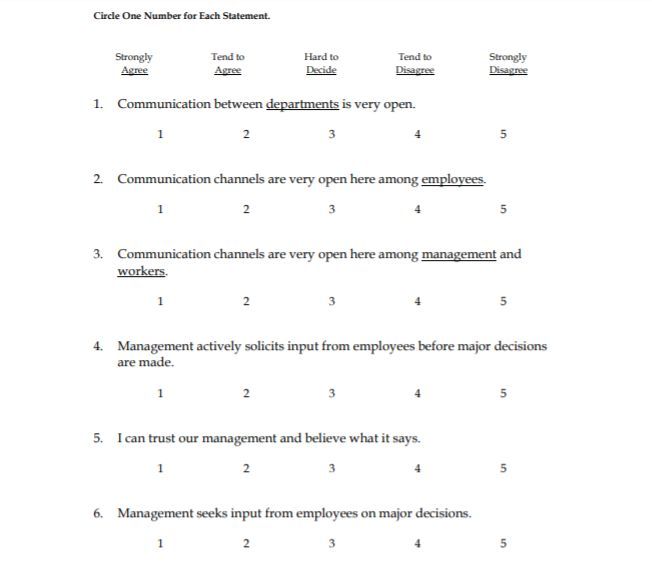 Not only does the above format provide you with an idea of how your team views your management, but it allows them to rate each question. This will give you insight into which areas you need to improve and to what degree you need to do so.
You can easily rebuild and share this survey with your employees online using a tool like Google Forms or Typeform.
Here's how to create a survey in Google Forms for free:
1. Go to Google Forms and click on Blank (requires a Google account)

2. Name your survey and add a brief description.

3. Add your list of questions (feel free to pick any of the following sample questions):
Employee satisfaction questions
I'm very happy at work.
I would recommend [your company] as a good place to work.
I have a great work-life balance.
I don't think about searching for a job at another company.
I'm happy with my salary.
Questions about view on management
I'm always informed about what's happening at [your company].
I understand [your company]'s vision and it motivates me.
I feel empowered to take ownership and own decisions.
The responsibilities of my current role are clear to me.
I feel like there's a clear growth path for me at [your company].
Questions about team culture
[Your company] embraces a culture of openness.
I can identify myself with [your company]'s company values.
The team is working and collaborating by the company values.
I feel comfortable providing and asking for feedback.
It's fun to work at [your company].
5. Share the survey link with your team via Slack or email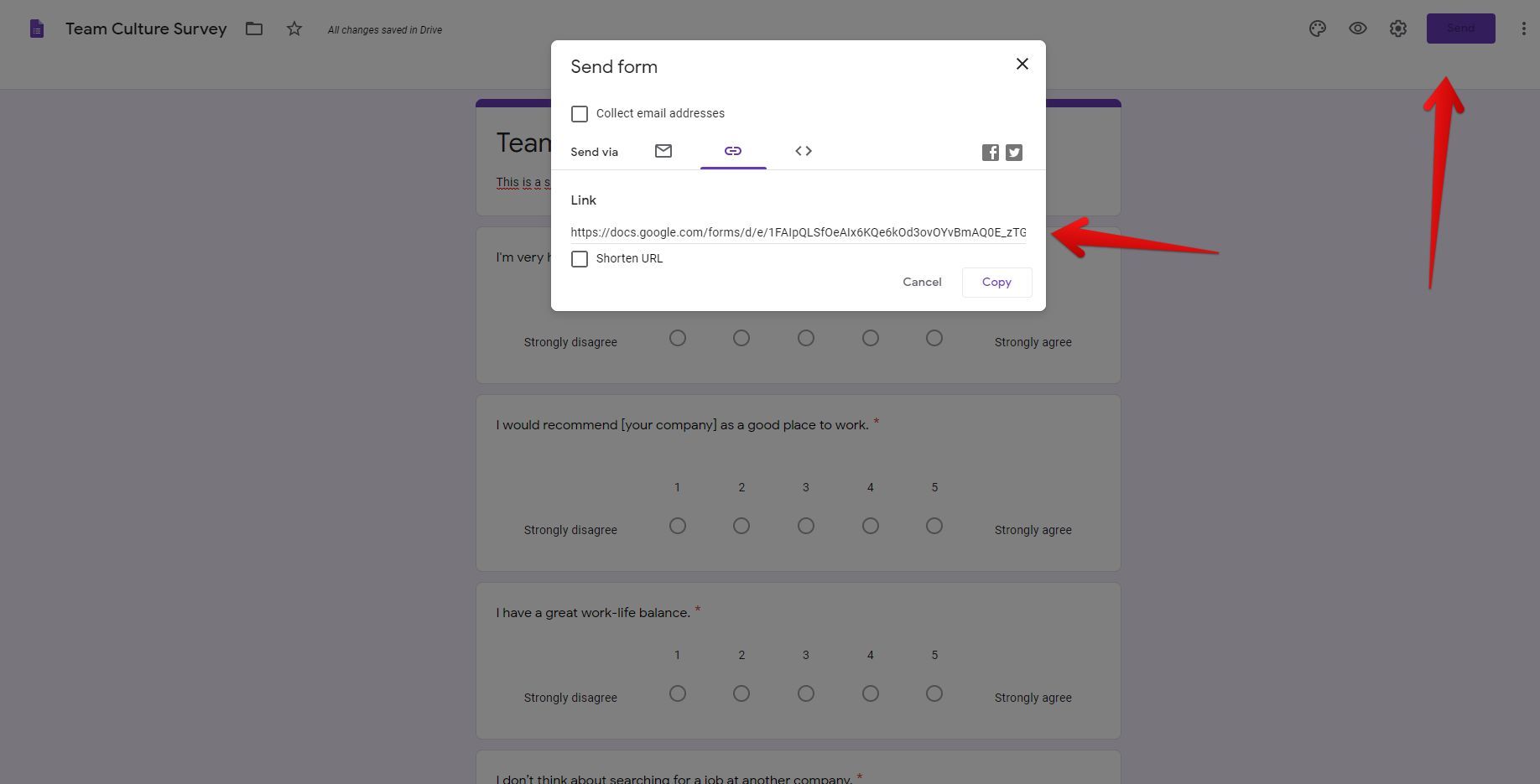 Building Your Team Culture: Here Are 5 Ways to Make It Happen
Now that you have an idea of what team culture is and how team culture surveys work, you can begin to focus on how to build a positive culture within your team.
1. Reflecting Company Values
In order to build a strong team culture, you need to have a clear idea of what your company values are. When you have this vision, you'll be able to build a team of employees who reflect and prioritize these values, too. By ensuring your team prioritizes the same values as your company, you'll experience more efficiency in general. A team with similar ideals will also provide its members with a space where they feel like they belong.
For example, Slack defined the following core values they live and work by:
Empathy
Courtesy
Thriving
Craftsmanship
Playfulness
Solidarity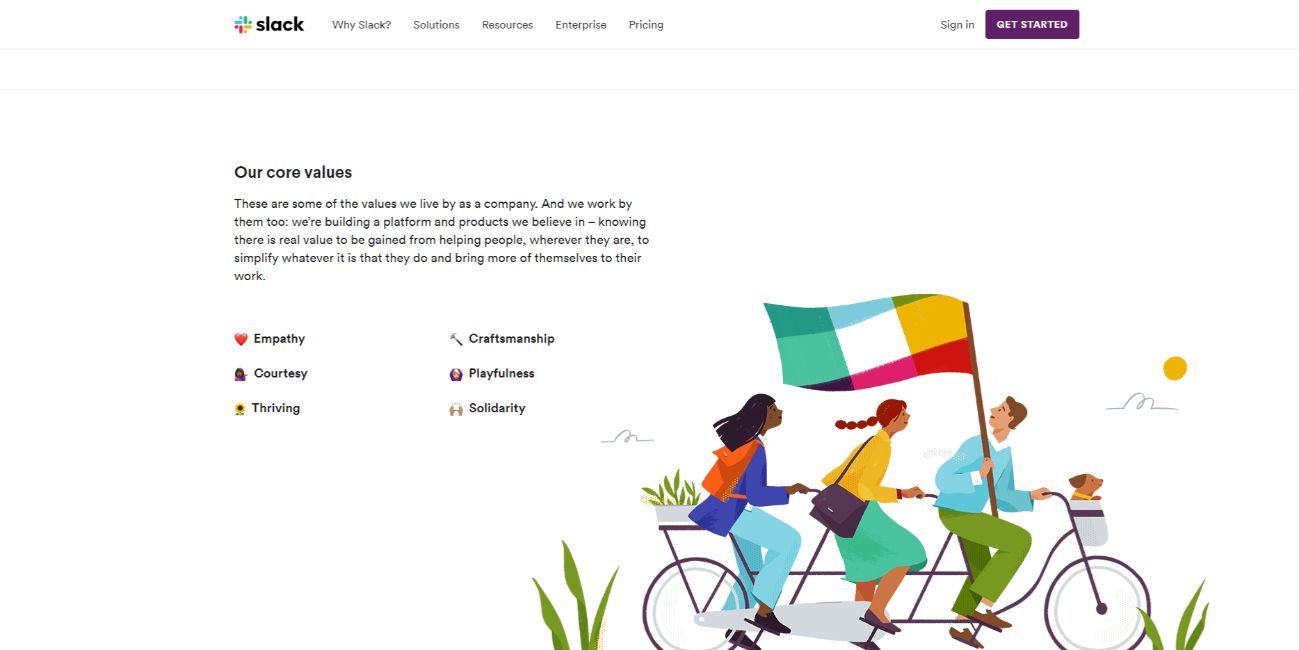 2. Establish a Supportive Onboarding Process
Team culture begins with the onboarding process. This is the first impression you'll be providing to new employees and team members, so if the person experiences a negative atmosphere during this process, they'll be more likely to expect and reflect that atmosphere within the team.
A great way to create a positive team culture during the onboarding process is to pair the team member with a mentor until they get used to their new role. This mentor will be able to answer any questions the new team member has, which will help in creating a supportive atmosphere.
3. Embrace Openness Through Leadership
Having an open-minded team and management will provide your company with an opportunity for growth. When the overall team is open, they'll be more comfortable to share their ideas with you. This will present you with new ways to expand and develop your business.
The best way to develop an atmosphere of openness is to consider your own leadership. If you're unsure as to whether your team members view you as a team leader, the best way to find out is to ask them.
This, in itself, will provide the impression that you're an open leader and that you're willing to put in the effort to change. You can do this with the aforementioned team culture survey or by asking your team members one-on-one how they think you can improve as a leader. This can happen in person or via Slack or Google Meet if you're working remotely. Consider asking questions like these:
Do you feel like your ideas are heard?
Do you feel like management is open to your opinion?
Do you think management is using your individual strengths to accomplish tasks?
4. Find Suitable Ways to Reward Your Employees
One of the best ways to improve your team culture and encourage your team members to work is to provide them with the right incentives to do so. The reason this works so well is because you're essentially conditioning team members to know that when they do good work, they'll be rewarded for it (in whatever way they prefer). As such, they'll continue to chase those rewards and will continue to work efficiently.
You can look at different incentive programs; for example, some team leaders decide to use a "points" system where good performance can be traded in for products or physical rewards.
With this system, team members are given a certain number of points when they've performed well, and they can trade these points in for concert tickets, kitchen appliances, etc.
You can also go with smaller, sometimes unnoticed incentives. Whenever you notice that someone is performing especially well, you can send out a private Slack message to them or share a public message in a team channel to show your appreciation.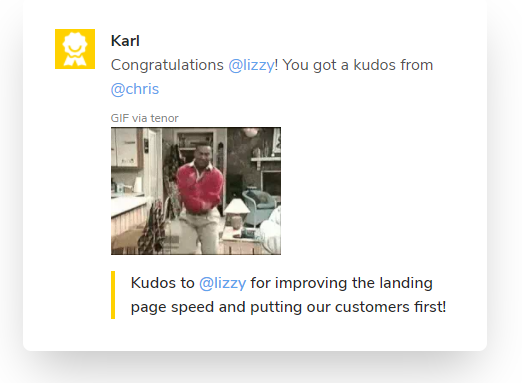 This can be done manually or through applications like Karl, where you can reach out to individual team members to congratulate them on their work or to recognize their efforts.
5. Build Trust Within Your Team
The way your team interacts with each other says a lot about your team culture. The values that everyone prioritizes will be reflected in how they treat each other. When looking over everyone's interactions, make sure you examine the dynamics between team members and analyze how they bounce off each other.
If you're working through applications like Slack, you'll want to look at the way you and your team are communicating. It is easy to see when your employees are enthusiastic to work and communicate, and it is just as obvious when they are not.
In-office, you'll be able to analyze interactions both by observing what your employees are saying and by observing their body language. If someone has their body turned away from another team member and toward the door while they're conversing, this may be a sign that they're trying to exit the situation.
If a team member isn't actively listening to all members of the group, which can be indicated through eye contact, nodding their head, etc., then this can also create an uncomfortable atmosphere.
If you notice that the interactions between coworkers or team members aren't healthy, you may want to consider investing some of your budget into team-building activities and outings. You can, for example, invest in team dinners or go to events together. These will help to promote the development of friendships and cohesion. Here's a list of remote and regular ideas for team-building activities:
Remote:
Regular all-hands meetings
Donut calls (you can use the Slack app Donut)
Live remote co-working
Establish ice breakers before your meetings
Start appreciating small and bigger successes using Karl
Regular:
Organize a board game tournament
Join a cooking workshop
Organize a hackathon
Get locked in an escape room
Volunteer for a good cause
Team Culture & Remote Work
Remote work is known to cause challenges in building a strong team culture. We mentioned before that team culture is about more than material luxuries like lounges, and this is even more apparent with teams that work remotely.
Even when your team works remotely, you still need to create a strong team culture for projects to run efficiently. This is because remote workers are working outside of an office setting and outside of your general supervision, so it can be easier to get off track or to feel separate from the team.
If your team prioritizes communication and quality, then customer service should come before fast delivery. Phone, email and Slack conversations are also more prevalent in remote work, which is why you'll want to hone in on your communication skills.
When looking at team culture and remote work, you'll want to consider many of the same things you would for in-office work. You should also think about the amount of trust there is within the remote team. If an employee who is working remotely feels like they're being micromanaged or like they don't have enough structure to complete their tasks efficiently, they'll be less likely to accomplish tasks in a timely matter. Not only this, but the worker will be less likely to contribute to the team's atmosphere.
Here are a few things you should consider when looking at your team culture with remote workers.
Provide structure. While some employers or team leaders don't want their employees to work remotely at all, it can be just as efficient as working in an office or workplace. The trick is providing your employees with the structure to keep them on track. You can provide structure by giving the remote worker a deadline, as well as detailed guidelines and instructions to follow. This way, the remote worker will have something to fall back on if they are unsure of something.
Give feedback. You can do this without micromanaging your team. If you give them permission to work remotely, it is likely that you have a certain amount of trust in their abilities. As such, you may want to consider loosening the reins. Still, you'll want to provide them with some supervision to make sure they're on track. You can do this by asking them to participate in on-demand feedback calls and daily standups.
Utilize your employees' strengths. When you work with the things your employees are good at, you see more success in the long run. This remains true when your employees work remotely. They'll be more inspired to work efficiently if they get to show off what they're best at. You can learn about what they're best at by asking the remote workers themselves or through observation.
Use the tools at your disposal. Karl is an excellent example of a tool that can help you when working remotely. It allows teams to spread positivity and helps you to provide your remote workers with recognition.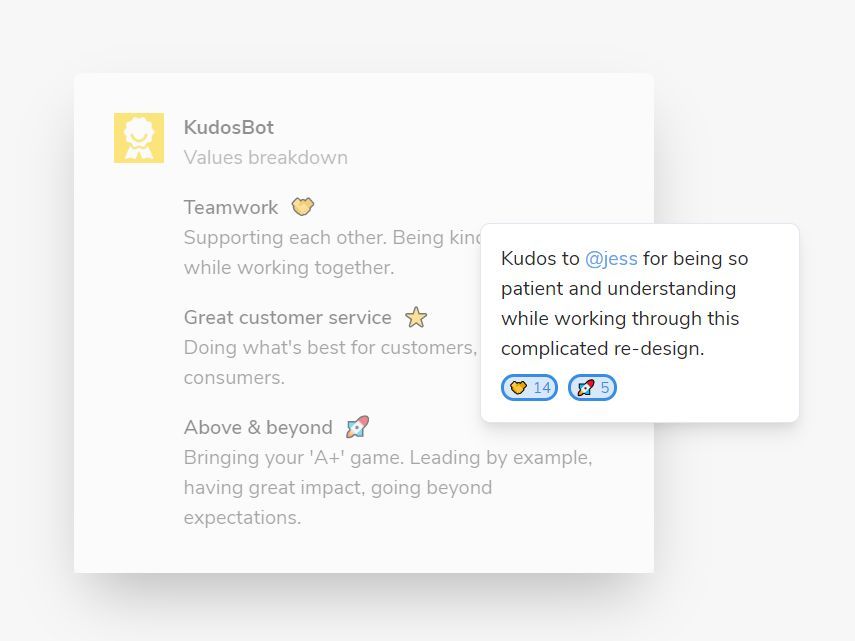 5 examples of tech companies with a great team culture
Tech companies have a bad reputation when it comes to their overall team culture, but this isn't true for every company. Here are five companies that have proven to have excellent team culture.
Intelity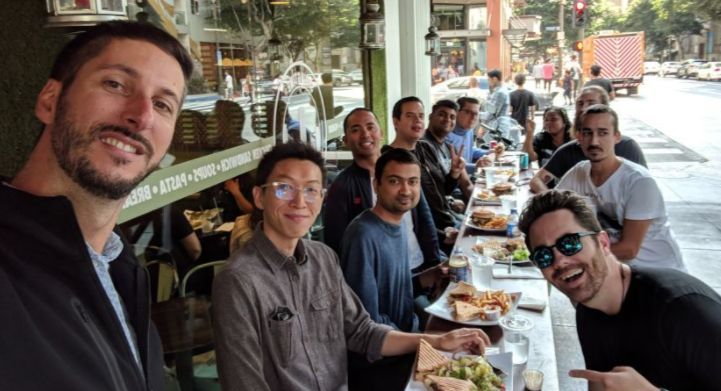 Intelity is known for its incredible work culture, and it just so happens to be a platform that provides the most hospitable technology. With Intelity, customers can receive comprehensive and integrated solutions to connect with employees and staff alike. To date, the company has processed more than 2 million service requests and more than 31 million platform dining sales.
Why does Intelity have a great team culture
There are a number of reasons why Intelity's team culture is so strong. The company goes for drinks together regularly and makes the effort to go out early to ensure that no one feels pressured to rush home. The company also tries to avoid unnecessary meetings so that any meetings they do have are taken seriously. By eliminating unnecessary meetings, the company also maximizes efficiency within the office. Intelity claims that by incorporating these things into their team culture, they facilitate the stimulation of interaction between coworkers and create a strong work ethic.
What can you learn from Intelity's team culture approach
When team leaders make the effort to create a supportive atmosphere that allows everyone to express themselves, it promotes a positive team culture. More than this, the company shows that building a strong team culture goes beyond the office.
Hallmark Labs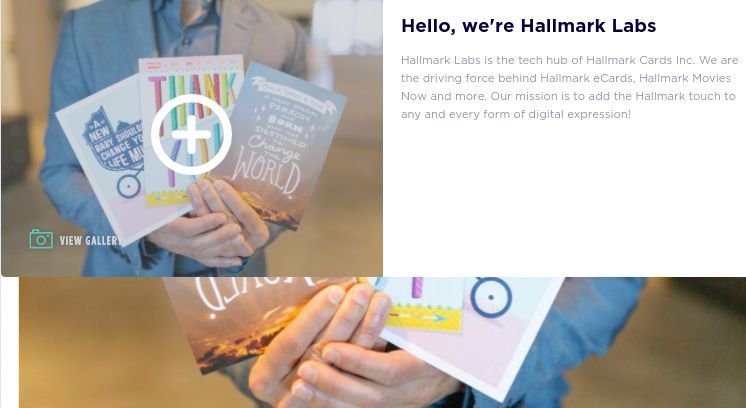 You've likely heard about Hallmark before. During every holiday season, countless Hallmark movies come out to help us celebrate. Hallmark claims to take pride in their employees and doesn't shy away from celebrating them. The company has been publicly said, "We keep it very down to earth here at Hallmark Labs; we know how to balance our work and our personal lives. And we certainly take time to celebrate our employees: we are in the celebrations business, after all."
Why does Intelity have a great team culture
Hallmark Labs' team culture can be measured by the amount of trust that the management has in its employees. It appears that the company takes any staff and employee suggestions into consideration.
What can you learn from Hallmark Labs' team culture approach
By focusing on letting employees take the reins, you can build a team that has more confidence and that knows how to collaborate. Considering Hallmark's success to date, we can safely say that trusting your employees and team members works.
Gem
Gem is a company that specializes in cryptocurrency and blockchain startups. Gem claims to prioritize company values more than anything. The company also aims to hire people who seek knowledge because this will promote stimulating conversations among coworkers.
Why does Intelity have a great team culture
According to the company's most recent surveys, 100% of their employees feel like their opinions and voices are heard.Creating a space where team members feel like their voices are heard also gives them the confidence and freedom to express any opinions or concerns that could help advance the company.
What can you learn from Gem's team culture approach
Here, we can learn about consideration and about creating an atmosphere where employees feel like they're heard. Because Gem's management makes sure to hire people who seek mental stimulation, and because the company itself prioritizes innovation, they have created an atmosphere and team culture that promotes expansion and innovation within the company. You can follow the same lead within your own company by making sure to hire employees who share your priorities and values.
Ace Metrix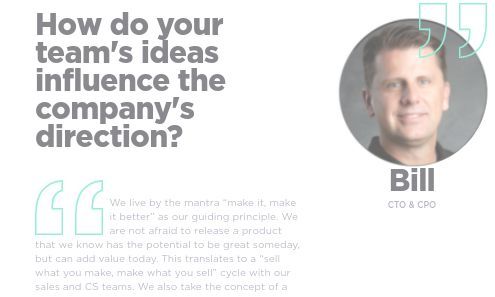 This company focuses primarily on making products that add value to the lives of those who buy from them. They do this by providing data-based insights into companies so that this data can be applied to campaigns.
Why does Intelity have a great team culture
Ace Metrix assigns projects to small groups that are made up of different tiers. This way, different tools and innovations can be used across all levels to ensure the success of a project. Every month, team members announce what they did during that month to the other team members. With this approach, team members are keeping each other up to date with things going on in the office. This is different from traditional approaches, which often focus on members assigning tasks to each other. The company also allows employees and teams to work at their own pace, which creates more comfort and ease in the office.
What can you learn from Ace Metrix's team culture approach
From this company, we can learn the importance of giving our employees and team members the space to work in a way that suits them best. Management here eases up on supervision and only requires monthly reports on work, which gives their employees e more freedom. This way, the company is creating a team culture that promotes both innovation and freedom. If you're wondering how you can build a similar team culture, you may want to consider loosening the reins a little.

Bridg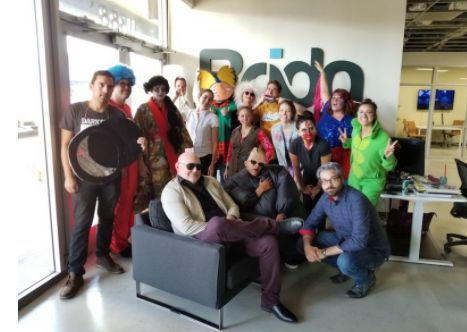 Bridg works primarily with retail companies and restaurants to identify their target audience. Bridg aims to create a work environment where employees and team members feel valued and empowered.
Why does Intelity have a great team culture
Bridg's team culture can be measured by its sense of community. The company has said the following about its team culture: "Our particular approach helps to create an environment where employees feel valued, involved and, above all, empowered to create products that wow our clients."
What can you learn from Bridg's team culture approach
Bridg has a lot to teach when it comes to the relationship between empowered employees and successful products. Being one of the foremost companies to work with in the retail and restaurant industries, there's no denying that what Bridg does works. When you include everyone at the table and make your employees feel valued, your company will benefit.
Valuable Team Culture Resources to Share With Your Team
Knowing how to begin building your team culture can be difficult. The good news is that there are a number of resources out there to help you along the way. Below, you can read about anything from team culture quotes to books that can help to keep you educated on the matter.
Inspiring Team Culture Quotes
If you're looking for quotes to help you promote team culture, we have plenty!
"Corporate culture is the only sustainable competitive advantage that is completely within the control of the entrepreneur. Develop a strong corporate culture first and foremost." — David Cummings
"Starbucks was founded around the experience and the environment of their stores. Starbucks was about a space with comfortable chairs, lots of power outlets, tables and desks at which we could work and the option to spend as much time in their stores as we wanted without any pressure to buy. The coffee was incidental."— Simon Sinek
"A company can't buy true emotional commitment from managers no matter how much it's willing to spend; this is something too valuable to have a price tag. And yet a company can't afford not to have it." — Stan Slap
"High Performance Happy does not like a lot of unnecessary processes and rules, which is why entrepreneurs have to let high performance people make decisions. If you trust them with your mission and with hundreds of important daily choices, you can also trust them to handle their vacation schedule, their paid time off, and the tools they need to get the job done." — Cliff Oxford
"In determining the right people, the good-to-great companies placed greater weight on character attributes than on specific educational background, practical skills, specialized knowledge, or work experience." — Jim Collins
" A pattern of shared basic assumptions invented, discovered or developed by a given group as it learns to cope with its problems of external adaptation and internal integration that have worked well enough to be considered valid and therefore, to be taught to new members as the correct way to perceive, think and feel in relation to those problems." —Edgar Schein
Best 10 Books on Team Culture
One of the best ways to improve your team culture is to educate yourself about it. Below, you will discover 10 great books that aim to improve workplace culture.
Games People Play by Eric Berne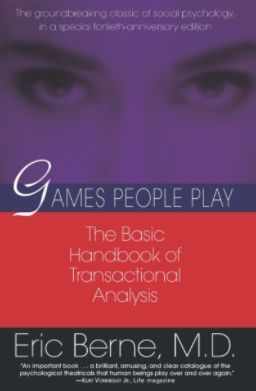 This book examines the interactions between management and team members. While this book is older than some of the other options on the list, the material within it remains true. The book focuses primarily on transactional relationships; for example, a leader who micromanages team members will often need to closely supervise their team members because the two play off of each other.
First, Break All the Rules: What the World's Greatest Managers Do Differently by Marcus Buckingham and Curt Coffman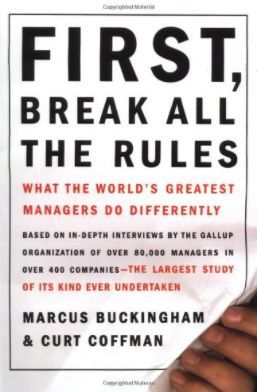 This book focuses on the leadership aspect of team culture. A leader who is open and promotes a healthy work environment is one who creates an efficient team. After conducting more than 80,000 interviews, the authors were able to pinpoint the best qualities of good leaders, all of which help to promote a strong team culture.
100 Ways to Motivate Others by Steve Chandler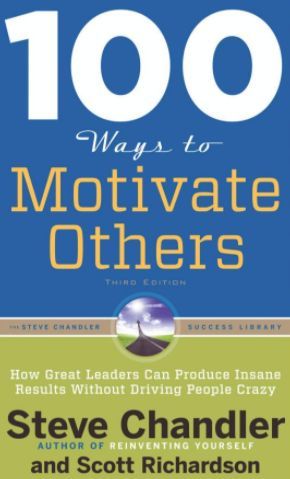 By creating a book that focuses primarily on how we can motivate each other, Chandler and Richardson provide an overall picture of how motivation can be used on both a personal level and on a larger scale. While the two focus is on leaders, this book can also be used by team members who want to create more dynamic relationships.
Good to Great: Why Some Companies Make the Leap… and Others Don't by Jim Collins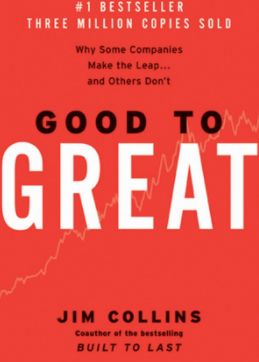 This book, like the name suggests, focuses on why some companies are able to successfully grow and why others are not. It appears that more successful companies focus on their employees' strengths and that managers who know how to lead their team members will be more successful than those who don't.
The Social CEO by Damien Corbet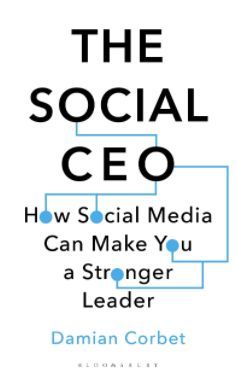 The Social CEO examines CEOs and team leaders who utilize social media to become better leaders. These are leaders who are able to maintain dynamic relationships with their team members and who are able to engage effectively with their employees. By improving engagement among employees, CEOs and team leaders can improve the overall atmosphere and build a strong team culture.
Super Pumped: The Battle for Uber by Mike Isaac
While you've likely heard about Uber before, you may not know about the company's numerous losses and gains. This book takes a different angle than some of the ones we've seen thus far by looking at Uber's infamous, toxic team culture to determine how the company could have done better. While Uber is now stronger than ever, there was a definite shift in the internal management and team culture, which allowed them to expand in a positive direction.
Lead Like a Chef by Chris Hill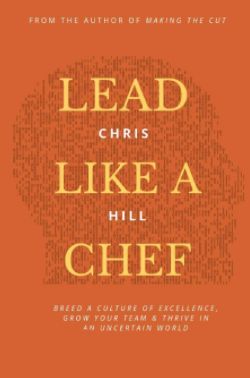 This book explains terms like "team culture" and "authenticity". More than this, the author attempts to inform us about how these terms can be used in practice to create a solid team. One of the best parts about this book is that the author uses real-life examples and scenarios you can relate to, so you can implement these skills in your daily life.
Brave New Work by Aaron Dignan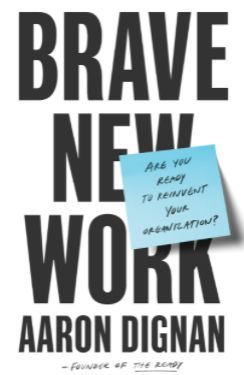 In this book, Aaron Dignan focuses on the foundations upon which all team culture is built and the causes of team culture failures. Dignan attempts to reinvent the internal operations of teams and organizations by looking at the internal values and principles that make up the team. In the process of doing so, the author helps companies reach their full potential.
There's No Crying in Newsrooms by Kristin Grady Gilger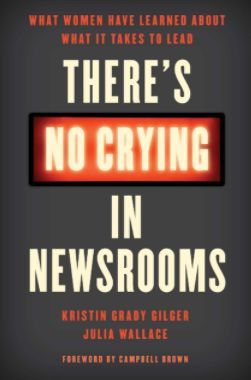 This book is known for providing a female perspective on team culture. It focuses on how women have succeeded and how they have had to persevere through both positive and negative work cultures.
Getting Service Right by Jeff Toister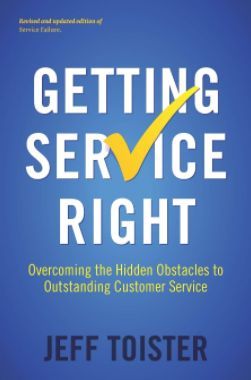 Jeff Toister's book focuses on how a negative work or team culture can impact the purpose of a team. If, for example, your team aims to provide quality service, this can be negatively impacted by a team culture that does not prioritize customers or clients.
Team Culture Tools You Can Use to Skyrocket Your Employees' Satisfaction
To perfect your team culture, you're going to need to use as many tools as possible. Here is a list of some of the best tools you can use to improve the overall atmosphere and culture within your team.
Karl - Recognize your employees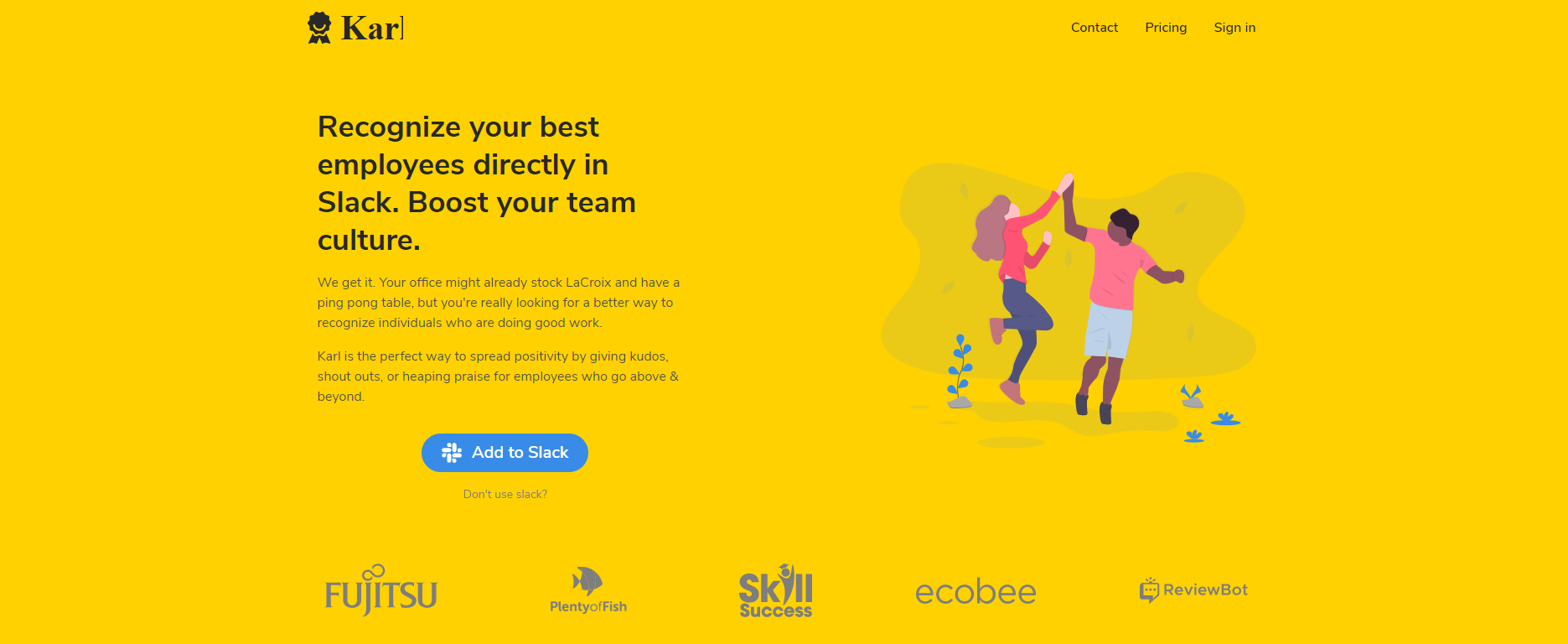 Karl provides teams with an innovative way to encourage and recognize each others' efforts, directly in Slack. At the end of the day, your team members and employees won't experience a positive work culture unless they feel like they're included in meetings and decisions. You can get ahead of the game with Karl, which will provide you with templates and tools that will aid you in giving recognition to those who deserve it.
Slack - Organize your team conversations

Especially, if you're working remotely, you have to establish flexible and transparent communication channels to get a better feeling for your team culture. Slack is a team communication and instant messaging software that enables you to have 1-on-1 as well as team conversations (in dedicated channels). This way, you can easily control and optimize the way your team is communicating. Moreover, Slack allows you to install a lot of additional apps like Karl to improve the team experience.
Tettra - Share internal knowledge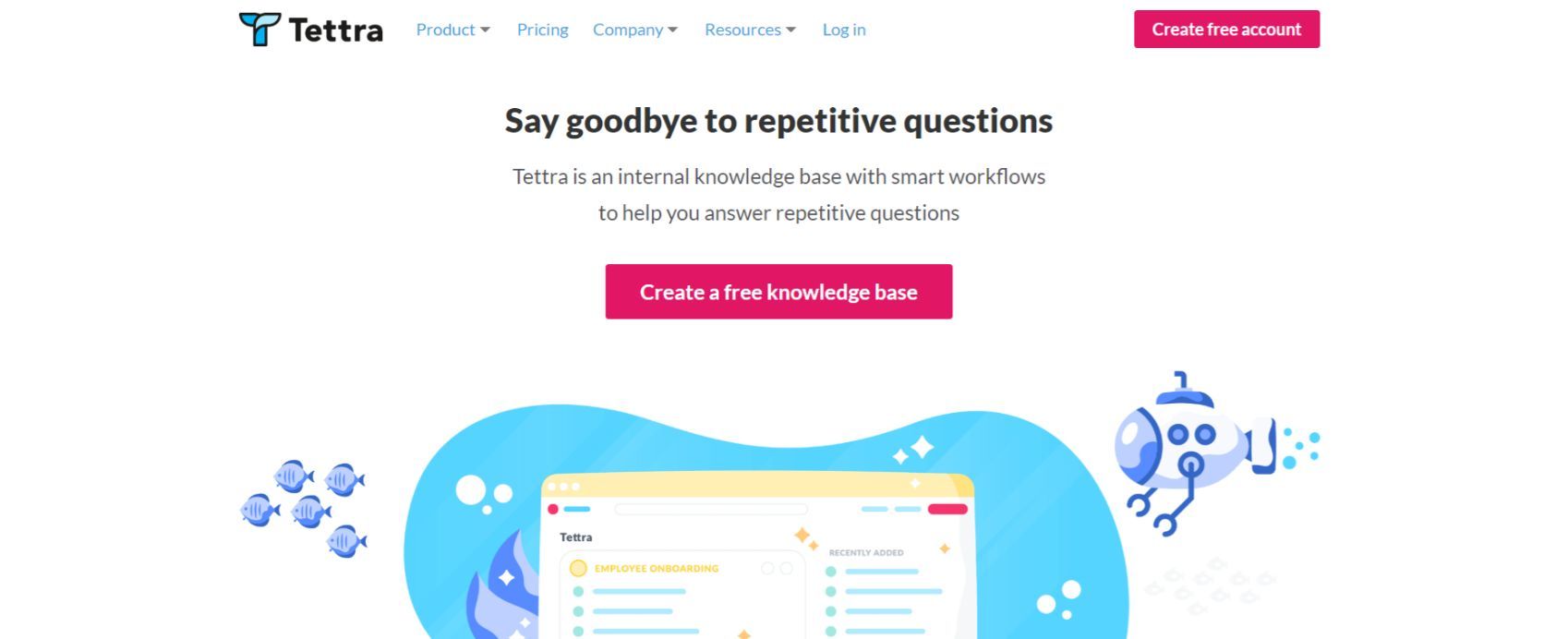 Tettra is an internal knowledge base that allows you to store all of your important processes and team information in one tool. The tool helps you consolidate different information silos. This way, all of your team members always know where to look if they have a question. Moreover, onboarding new hires gets much faster (and simpler).
Conclusion
While it can be difficult to grasp what team culture means and how it can be applied to daily life, you'll experience a significant increase in productivity and overall happiness within your team if you take building a positive culture seriously. This can be achieved in a number of ways. For example, you can incorporate lessons from the books listed above into your daily work life. You can build an onboarding process that is welcoming and incorporate procedures and events that reflect your company's values and priorities.
You can also use many of the invaluable tools and resources at your disposal to help with accountability and with giving recognition where it is due. Most importantly, consult your team members about the strengths and weaknesses of the current team culture through a team culture survey and let their feedback guide your path to building a strong and supportive culture for all your employees.