In a world where people are more distracted than ever, employee engagement has never been more important for businesses. The absolute best way to address it, is to create what's known as an employee engagement strategy.
Interested in building one, but not sure where to start? Don't worry. Below, we'll cover everything you need to know.
Enjoy!
What Is an Employee Engagement Strategy (and Why Should You Work On It)?
An employee engagement strategy is a strategic, well-thought out plan for how you engage your employees. It's how you keep them motivated to do their jobs, and help your business achieve its goals.
More specifically, it involves implementing policies, methods and strategies that improve employee physical, emotional and cognitive wellbeing.
Those three aspects will also be measured, in both qualitative, as well as quantitative ways. Ensuring the employee engagement strategy is data-driven is essential.
Why Should You Work on An Employee Engagement Strategy?
There are a variety of reasons why you should work on developing an employee engagement strategy. Some of these include:
Employee Morale: An employee's morale will improve when you provide support for them physically, emotionally, as well as cognitively.
Employee Productivity: When your workers are sufficiently engaged, they'll be much more productive.
Customer Satisfaction: Your customers will be more satisfied when your business provides a better product and service.
Staff Churn Rate: If an employee likes their job, they'll be less likely to look for other opportunities.
Company Revenue: When you factor in better employee productivity, motivation, as well as less turnover, your business will make more money.
Employee engagement is crucial to the success of your business, which is why you absolutely need to prioritize it. With an effective strategy, you can maximize the effectiveness of your workforce, and increase your bottom line.
Here's How to Build a Solid Employee Engagement Strategy (+ Plan)
Building an employee engagement strategy is not complicated. You just need to adequately plan.
The 5 Key Components Your Employee Engagement Strategy Needs
For an employee engagement strategy to be effective, it needs 5 key components:
Effective Communication: How do you communicate your engagement strategy to employees, leadership, and stakeholders?
Identification of Action Areas: Determine where to focus your resources, to ensure maximum effectiveness of your engagement strategy.
Identification of Measurable Outcomes: Specifically identify the metrics you are targeting, that'll determine the success of your engagement strategy
An Action Plan: A plan that covers your engagement goals, identifies drivers of engagement, and involves management.
A Long Term Outlook: How will your efforts to increase employee engagement be sustained over time?
With this knowledge out of the way, you can now begin planning your employee engagement strategy.
Steps to Create an Employee Engagement Strategy
Step 1: Identify Relevant Employee Subgroups
The first step towards creating your employee engagement strategy is to know exactly who you're targeting. It's simply too hard to try to target all of your workforce at once. Doing so will stretch your resources too thin.
You'll want to identify underperforming, unengaged employee subgroups, like your sales, or marketing team.
You should also find out which subgroups are performing well. You can use these as examples for inspiration and guidance.
Step 2: Uncover the Drivers of Employee Engagement
Now that you know who you're targeting, you'll need to uncover the specific "drivers" of their employee engagement. You see, not every employee subgroup is engaged with the same methods or strategies. Engagement is not universal at all.
What's important to one group, is different to another.
The onus is on you to discover what the drivers are for your employee subgroup. Here are some examples of typical employee engagement drivers:
Autonomy
Feedback
Professional Development
Purpose
Rest
Relationship With Managers
Goal Support
When you've identified the correct drivers of engagement, then you can select appropriate strategies.
For instance, if rest is one of your drivers, you can look into providing strategies that emphasize work-life balance.
Step 3: Create an Action Plan
You've now got an idea of who you're targeting, as well as how to target them. Now it's time to create an "action plan".
An action plan addresses what your specific goals are regarding your employee engagement strategy. These goals will be explicitly related to both your employee target subgroups, as well as their specific drivers of engagement.
It'll use the SMART goal setting framework to create these goals. This stands for:
Specific
Measurable
Achievable
Realistic
Time-oriented
The action plan also covers the roles and duties of the managers, who oversee the workers.
Step 4: Avoid Common Pitfalls
When it comes to creating your engagement strategy, there are a few common pitfalls you'll want to avoid.
Avoid calling engagement an "initiative"
Initiative is a buzzword in business and management that suggests fickle nature. "Oh, this is just another one of those initiatives. It won't last a month."
Instead, consider it an integral part of your culture moving forward. Think of it as a function of your business, much like sales, marketing, and HR.
Avoid focusing on too many things/groups
Oftentimes, businesses overestimate what they can do. You only have so many resources, so you mustn't waste any. Ensure that you clearly outline the scope of your engagement strategy.
Avoid not analyzing and evaluating
Analyzing and evaluating your results is just as important as the engagement strategy itself. Don't be one of those businesses that creates a plan, merely to look impressive. Actually look to get measurable improvements with regards to employee engagement.
Great Employee Engagement Strategy Examples of Popular Tech Companies
Lots of large, successful tech companies have employee engagement strategies. Below, you'll find 6 real-life examples, to help you gain perspective, and envision your own strategy.
1. Flexible Work Hours - Dell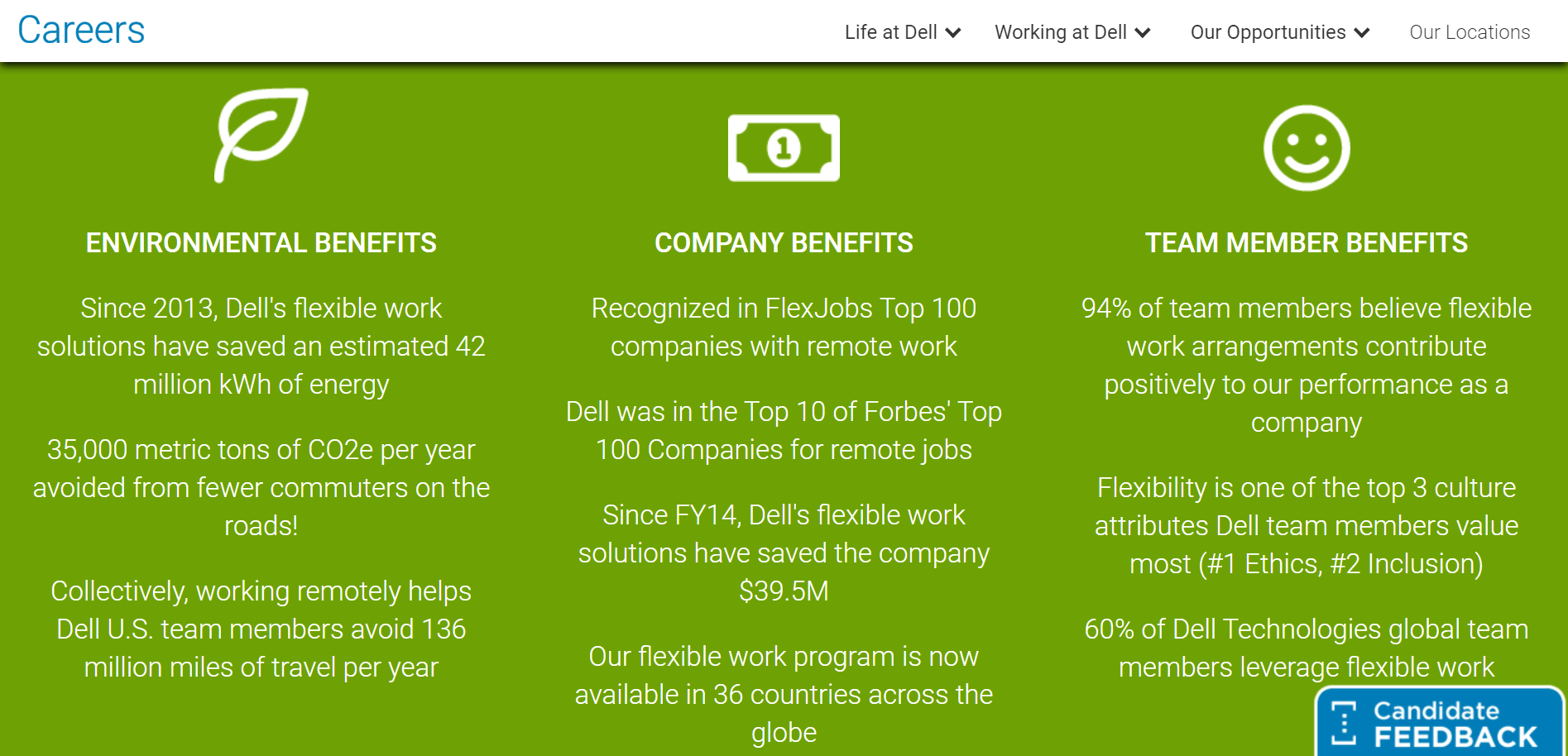 Dell — one of the largest companies in the world — offers its employees work flexibility. The workers can choose variable hours, as well as the option to work from home, or remotely.
The company justified the flexibility by suggesting that employees do their best work, regardless of when or where.. As long as they get the job done. It empowers the workers, and supercharges engagement.
Because more employees opt to work from home, Dell has saved over $12 million. So, it's not only a win for employee engagement, but can also lower your expenses.
Helping employees balance life and work is huge for increasing engagement. If you're not providing flexible working hours, then maybe you should be — it's a great strategy.
2. Health and Wellness Program - Facebook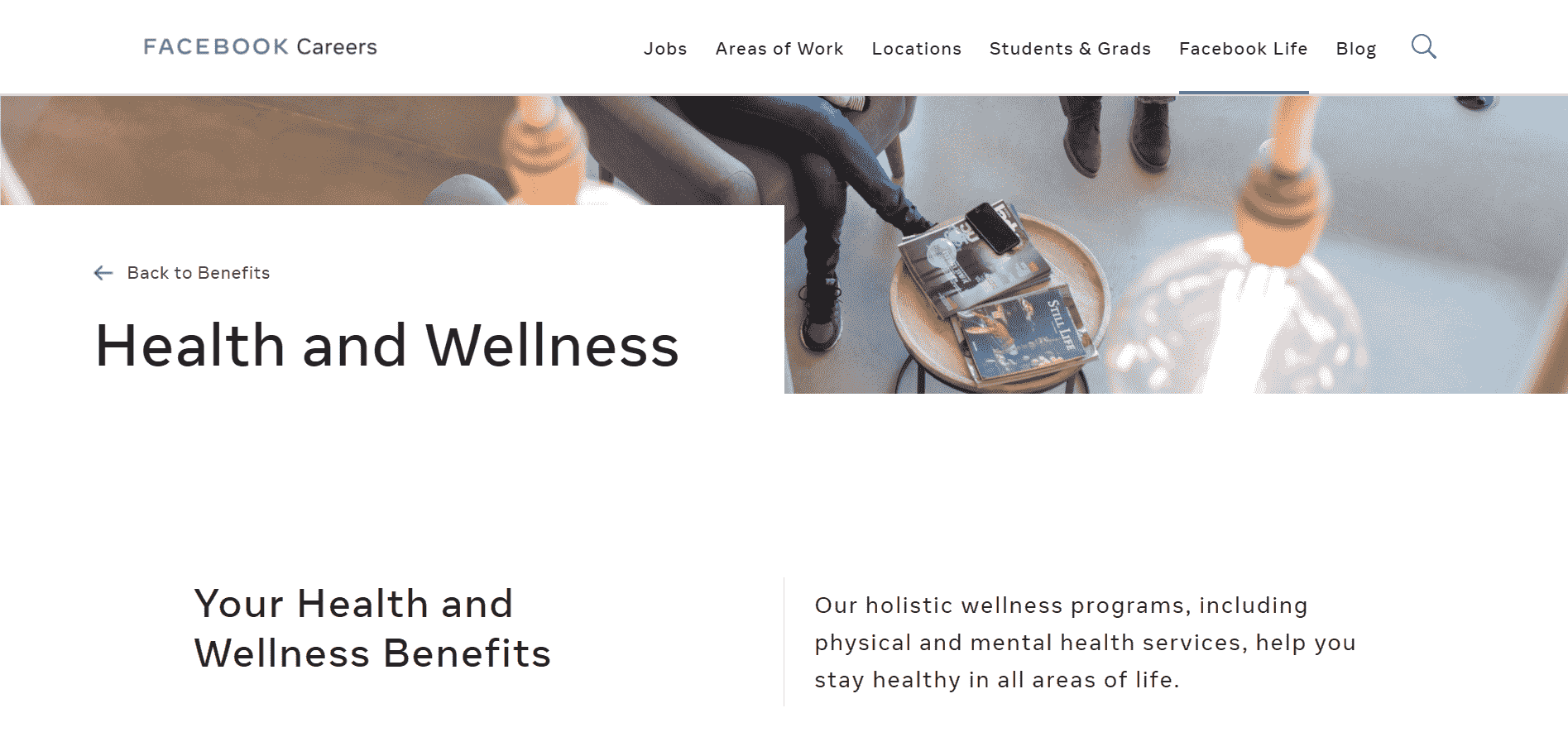 Facebook keeps its employees engaged by offering a first class health and wellness program. It covers a variety of issues like:
Autism coverage
Cancer care program
Dental plan
Healthcare flexible spending account
Fertility coverage
Maternity benefits/paid leave
Medical coverage
Mental health coverage
Transgender coverage
Eyesight coverage
Wellness reimbursement (gym/fitness/sporting leagues)
Health and wellness is so important for employee engagement, as it comprises a physical, and mental component. When you take care of your employees, they'll work harder for you. This has to be one of the top engagement strategies out there.
3. Paid Volunteering - Apple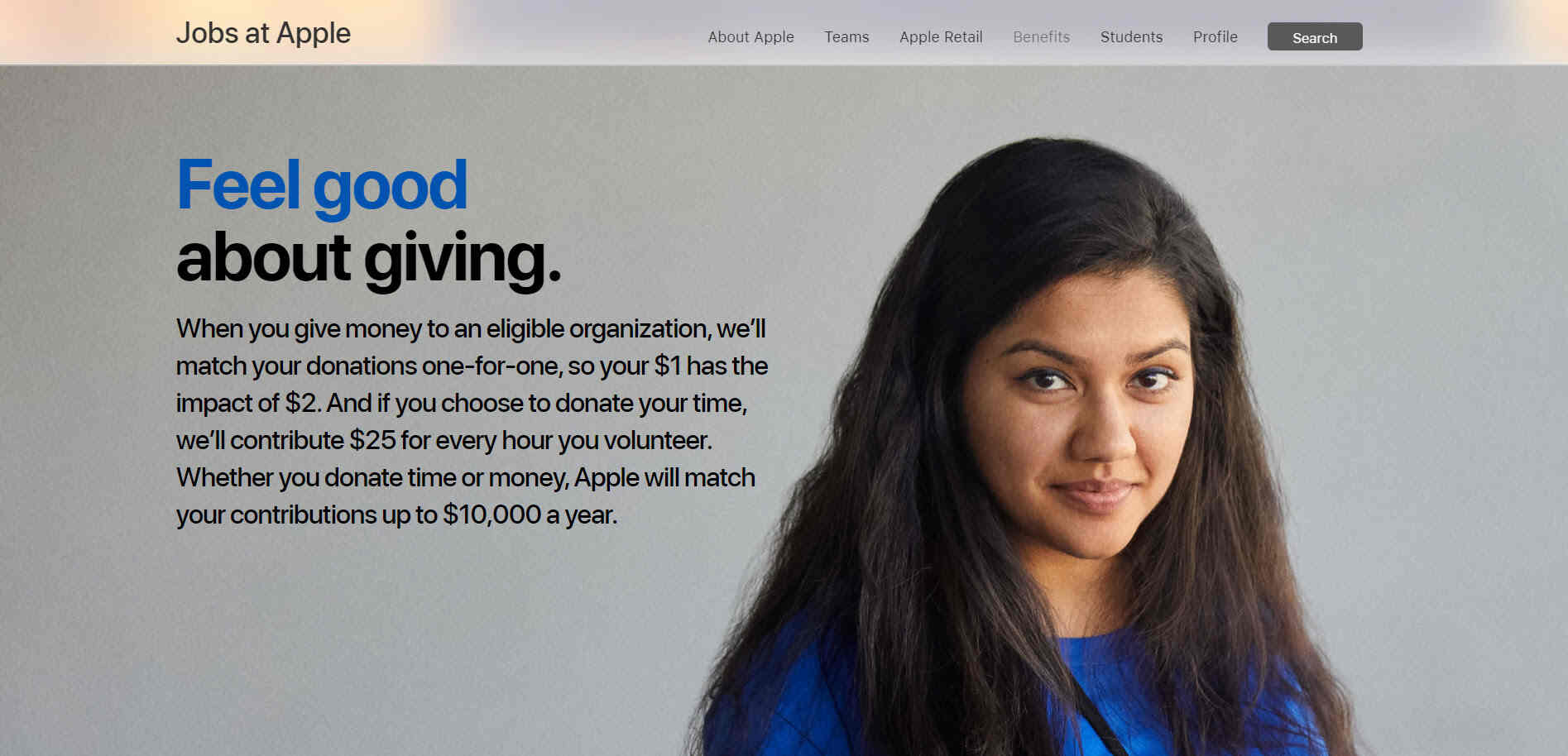 At Apple, one unique engagement strategy they use is to offer "paid volunteering" to its employees. This is when the company pays its workers to go volunteer. This is a way to empower employees to give back to the community.
Apple will pay its employees $25 per hour for up to $10,000 a year. That amount can also be spent on donation matching.
Not only is volunteering a feel good activity, but it's also something awesome to put on a resume. Not to mention it mixes things up and gets employees out of the office.
Absolutely an epic way to boost engagement.
4. Education Support - Microsoft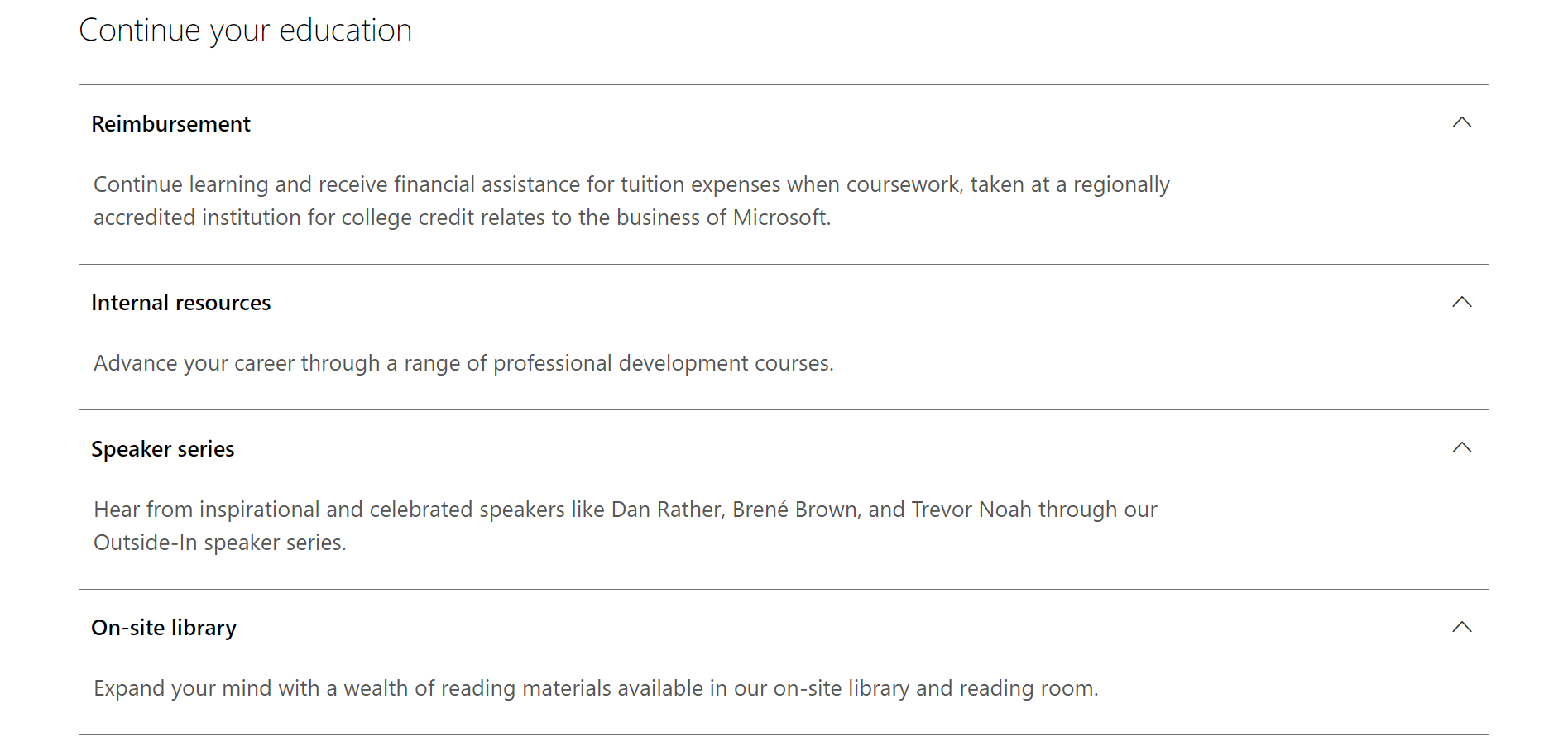 To boost its employees' engagement, Microsoft offers a variety of benefits that support, and further education. Specifically, this includes:
Reimbursement: Microsoft will provide financial assistance for employees to go back to college. The course/degree has to relate to the business of Microsoft in some way. The institution (college/university) also has to be accredited.
Internal Resources: There are a range of development courses that help employees strengthen their skillset.
Speaker Series: Every so often, Microsoft will host various influential speakers.
On-site Library: An on-site library is free and accessible to all Microsoft employees. There is a wealth of reading and educational materials, along with an actual reading room.
Employees are always looking to further their skillset — when you aid them in this task, they'll love you for it. Definitely a strategy you'd might want to implement if you want to increase engagement.
5. Transportation Support - IBM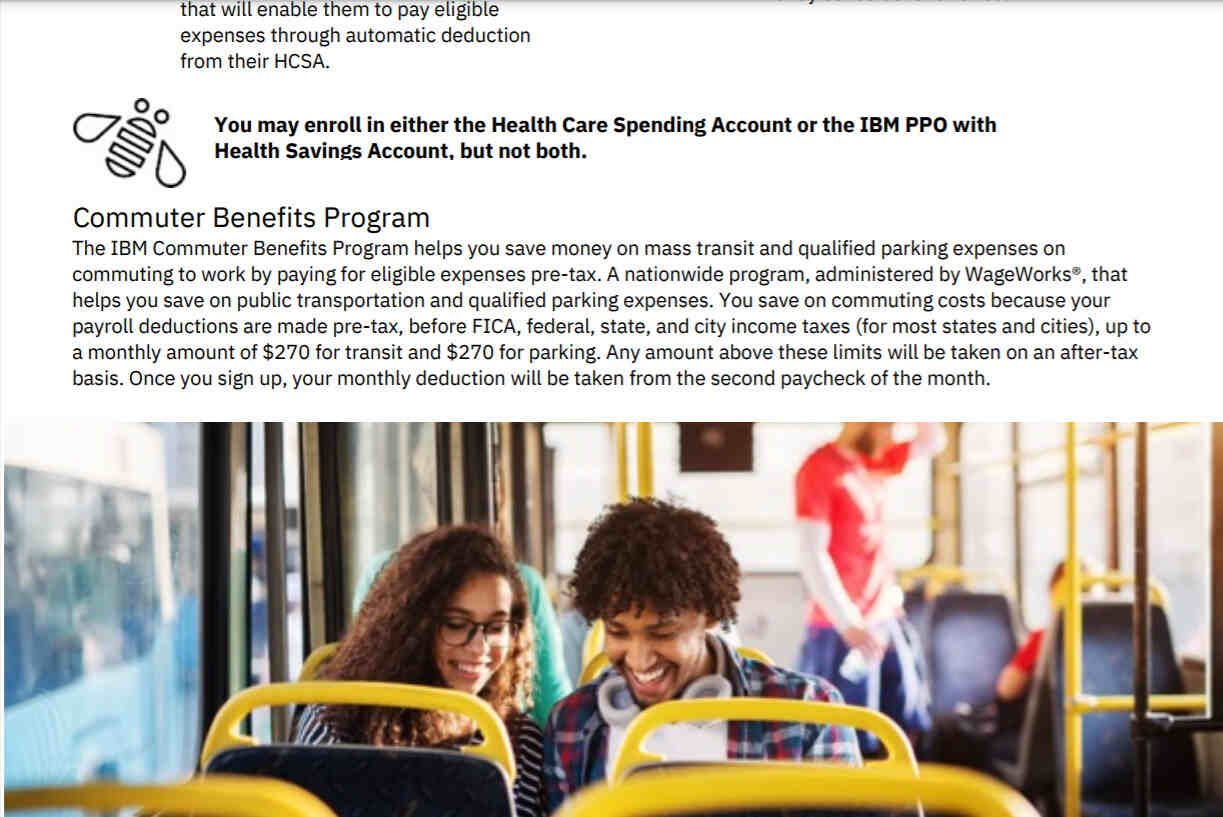 IBM employees have access to what's known as a "commuter benefits program." This program is basically financial support for transportation expenses to and from work. This includes public transportation, like busses and trains, as well as fuel for driving, and parking expenses.
The exact amount IBM workers get is $270 a month for transit, and another $270 a month for parking.
Helping your employees with their transportation to work is an effective strategy to boost engagement. The to and from journey to work is an added burden, and alleviating this stress is invaluable.
6. Unlimited Time Off - HubSpot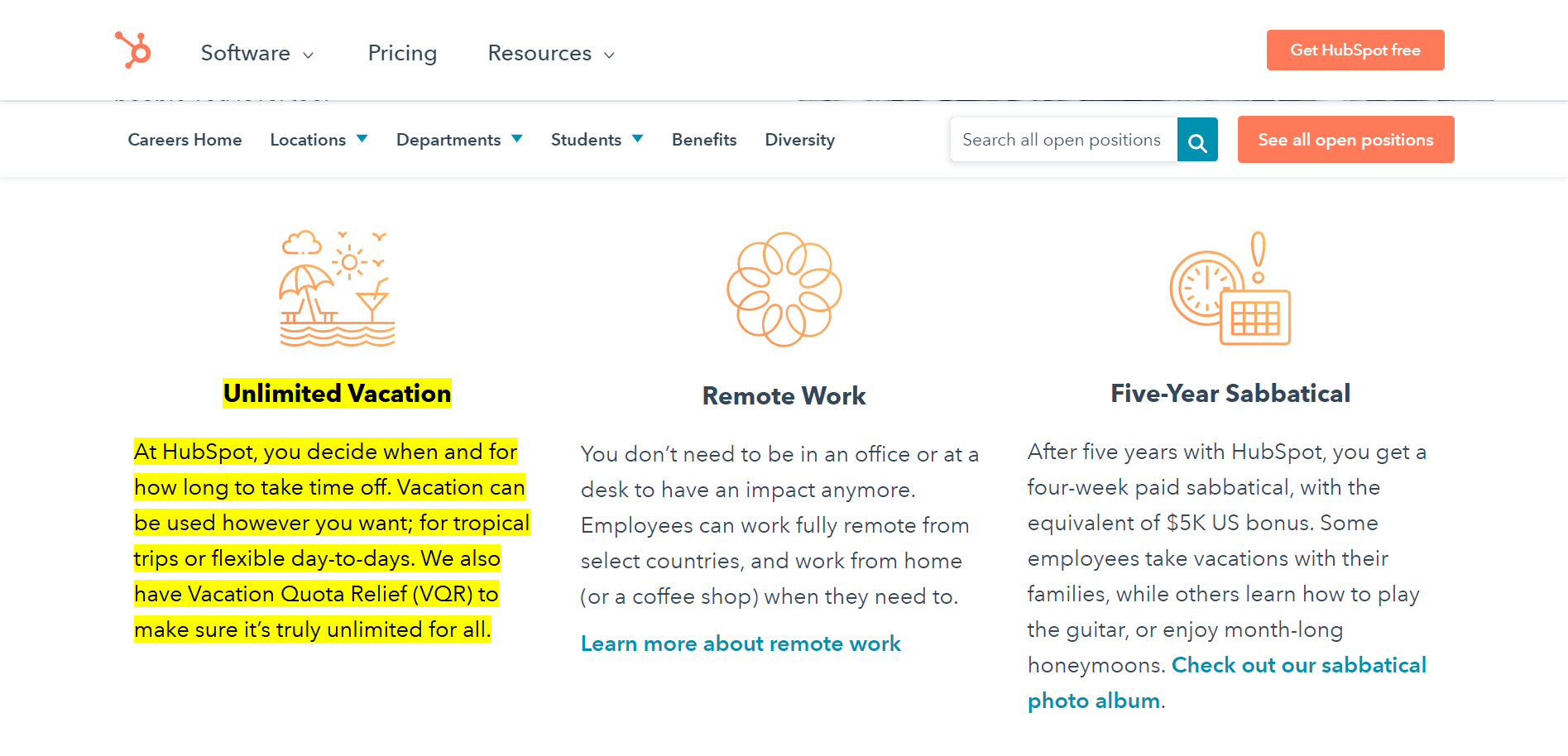 If you really want to get your employees super engaged, maybe you should copy HubSpot and offer unlimited time off.
Basically, there are no restrictions to how much time one can take for themselves. For some, this simply just helps their working week become more flexible. For others, it makes planning a holiday easy.
Obviously it needs to be stated that it kind of works like an honor system. If you take a lot of time off, without doing a whole lot of work, you probably won't last there. But if you do the work, you can stay at home, or even go on holiday.
The strategy works because it rewards employees based upon performance. Or in other words, it rewards employees for actually working, and not sitting in the office, killing time.
When you provide flexibility like this to an employee, they'll work like a machine for you. Engagement will be through the roof.
7 Actionable Employee Engagement Strategy Ideas (and How to Implement Them)
Not sure where to start with regards to your employee engagement strategy? Don't worry — here are 7 actionable ideas you can implement today.
1. Give Your Employees a Voice
One of the easiest and most effective ways to increase employee engagement is to give them a voice. Granting your workers the platform to give feedback is really important.
Many businesses do get employee feedback, but most only do it once a year via survey. This is wholly inadequate, as your workforce needs to be heard regularly. In fact, businesses who frequently get employee feedback have a 14.9% lower churn/turnover rate.
How to Implement
Try to get feedback from your employees frequently — you can conduct surveys every 2 weeks. You could also implement an anonymous ethics hotline as well.
2. Prioritize Employee Wellness
Many businesses have embraced the concept of wellness, putting emphasis on employee health. They do this because it's been shown that the majority of engaged employees believe their work improves their physical health.
As an organization, this is definitely something you can look into to improve employee engagement.
How to Implement
There are a number of ways that you can prioritize employee wellness. Here are some good examples:
Gym/fitness allowances
Free healthy onsite food options
Free checkups
Sporting league allowances
3. Support Employee Education and Training
As technology evolves, so too does businesses and the requirements of its employees. Keeping them up to date and educated is very important. That's why many businesses support their employees furthering their education and training.
How to Implement
Many businesses offer a tuition reimbursement — you can look into that. You can also provide a robust onboarding process, to ensure employees have a complete skill set for the job. Even paying for conferences and workshops can help.
4. Give Employees Work Flexibility
If one thing the COVID-19 pandemic has shown businesses, it's that working from home is a viable option. Many businesses are now providing its workers with flexibility — allowing them to choose to work wherever they want.
How to Implement
If your business is largely online, you can look to offer a "work from home" option to employees. You can use a team collaboration/communication software like Slack to keep them up to date.
5. Recognize Your Employees
Recognizing with positive feedback is one of the best ways to boost employee engagement. Lots of organizations utilize a variety of strategies and methods to let their workers know they're doing a good job.
As a business, this is something you should definitely consider if you want to increase employee engagement.
How to Implement
Offer your workers bonuses if they exceed expectations. Provide an employee of the month award for top performing workers. Host an event to recognize and reward your entire workforce. Surprise them with a day off for their good work.
6. Host Internal Events
If you're looking to boost engagement amongst your employees, hosting an onsite, internal event might be a good idea. It's a way for all your workforce to get to know each other, and bond together.
Many organizations do host events because it's an effective way to stimulate employees mentally, physically and cognitively.
How to Implement
There are many types of inhouse events you could host — here are some ideas:
Breakfast/lunch for the whole team
Office contests
Scavenger hunts
A ping pong tournament
7. Prioritize Diversity and Inclusion
Diversity and inclusion shouldn't just relate to hiring quotes — your entire organizational culture should be about it. When employees have others like them, it makes them feel more welcome and comfortable. When your workers feel like one of the family, it does wonders for engagement.
How to Implement
Try to hire those from various different backgrounds, like race, ethnicity, gender, sexuality, or religion. Also look to give all your employees, regardless of who they are, a voice. Let them have input and a say. Celebrate the different holidays and traditions of all various groups.
Conclusion
In this article we covered everything you need to know to build a solid employee engagement strategy.
Employee engagement has been shown to improve organizational outcomes, like revenue, or staff turnover. That's why it makes sense to create a strategy to ensure your workforce is stimulated physically, mentally, and cognitively.
If you have any questions, leave a comment below!